');mask-image:url('data:image/svg+xml;utf8,');mask-mode:alpha;-webkit-mask-repeat:no-repeat;mask-repeat:no-repeat;-webkit-mask-size:contain;mask-size:contain;-webkit-mask-position:center;mask-position:center;border-radius:0}}.wp-block-image figure{margin:0}ol.wp-block-latest-comments{margin-left:0}.wp-block-latest-comments .wp-block-latest-comments{padding-left:0}.wp-block-latest-comments__comment{line-height:1.1;list-style:none;margin-bottom:1em}.has-avatars .wp-block-latest-comments__comment{min-height:2.25em;list-style:none}.has-avatars .wp-block-latest-comments__comment .wp-block-latest-comments__comment-excerpt,.has-avatars .wp-block-latest-comments__comment .wp-block-latest-comments__comment-meta{margin-left:3.25em}.has-dates .wp-block-latest-comments__comment,.has-excerpts .wp-block-latest-comments__comment{line-height:1.5}.wp-block-latest-comments__comment-excerpt p{font-size:.875em;line-height:1.8;margin:.36em 0 1.4em}.wp-block-latest-comments__comment-date{display:block;font-size:.75em}.wp-block-latest-comments .avatar,.wp-block-latest-comments__comment-avatar{border-radius:1.5em;display:block;float:left;height:2.5em;margin-right:.75em;width:2.5em}.wp-block-latest-posts.alignleft{margin-right:2em}.wp-block-latest-posts.alignright{margin-left:2em}.wp-block-latest-posts.wp-block-latest-posts__list{list-style:none;padding-left:0}.wp-block-latest-posts.wp-block-latest-posts__list li{clear:both}.wp-block-latest-posts.is-grid{display:flex;flex-wrap:wrap;padding:0}.wp-block-latest-posts.is-grid li{margin:0 1.25em 1.25em 0;width:100%}@media (min-width:600px){.wp-block-latest-posts.columns-2 li{width:calc(50% - .625em)}.wp-block-latest-posts.columns-2 li:nth-child(2n){margin-right:0}.wp-block-latest-posts.columns-3 li{width:calc(33.33333% - .83333em)}.wp-block-latest-posts.columns-3 li:nth-child(3n){margin-right:0}.wp-block-latest-posts.columns-4 li{width:calc(25% - .9375em)}.wp-block-latest-posts.columns-4 li:nth-child(4n){margin-right:0}.wp-block-latest-posts.columns-5 li{width:calc(20% - 1em)}.wp-block-latest-posts.columns-5 li:nth-child(5n){margin-right:0}.wp-block-latest-posts.columns-6 li{width:calc(16.66667% - 1.04167em)}.wp-block-latest-posts.columns-6 li:nth-child(6n){margin-right:0}}.wp-block-latest-posts__post-author,.wp-block-latest-posts__post-date{display:block;font-size:.8125em}.wp-block-latest-posts__post-excerpt{margin-top:.5em;margin-bottom:1em}.wp-block-latest-posts__featured-image a{display:inline-block}.wp-block-latest-posts__featured-image img{height:auto;width:auto;max-width:100%}.wp-block-latest-posts__featured-image.alignleft{margin-right:1em;float:left}.wp-block-latest-posts__featured-image.alignright{margin-left:1em;float:right}.wp-block-latest-posts__featured-image.aligncenter{margin-bottom:1em;text-align:center}ol,ul{box-sizing:border-box}ol.has-background,ul.has-background{padding:1.25em 2.375em}.wp-block-media-text{ /*!rtl:begin:ignore*/direction:ltr; /*!rtl:end:ignore*/display:grid;grid-template-columns:50% 1fr;grid-template-rows:auto}.wp-block-media-text.has-media-on-the-right{grid-template-columns:1fr 50%}.wp-block-media-text.is-vertically-aligned-top .wp-block-media-text__content,.wp-block-media-text.is-vertically-aligned-top .wp-block-media-text__media{align-self:start}.wp-block-media-text.is-vertically-aligned-center .wp-block-media-text__content,.wp-block-media-text.is-vertically-aligned-center .wp-block-media-text__media,.wp-block-media-text .wp-block-media-text__content,.wp-block-media-text .wp-block-media-text__media{align-self:center}.wp-block-media-text.is-vertically-aligned-bottom .wp-block-media-text__content,.wp-block-media-text.is-vertically-aligned-bottom .wp-block-media-text__media{align-self:end}.wp-block-media-text .wp-block-media-text__media{ /*!rtl:begin:ignore*/grid-column:1;grid-row:1; /*!rtl:end:ignore*/margin:0}.wp-block-media-text .wp-block-media-text__content{direction:ltr; /*!rtl:begin:ignore*/grid-column:2;grid-row:1; /*!rtl:end:ignore*/padding:0 8%;word-break:break-word}.wp-block-media-text.has-media-on-the-right .wp-block-media-text__media{ /*!rtl:begin:ignore*/grid-column:2;grid-row:1 /*!rtl:end:ignore*/}.wp-block-media-text.has-media-on-the-right .wp-block-media-text__content{ /*!rtl:begin:ignore*/grid-column:1;grid-row:1 /*!rtl:end:ignore*/}.wp-block-media-text__media img,.wp-block-media-text__media video{height:auto;max-width:unset;width:100%;vertical-align:middle}.wp-block-media-text.is-image-fill .wp-block-media-text__media{height:100%;min-height:250px;background-size:cover}.wp-block-media-text.is-image-fill .wp-block-media-text__media>a{display:block;height:100%}.wp-block-media-text.is-image-fill .wp-block-media-text__media img{position:absolute;width:1px;height:1px;padding:0;margin:-1px;overflow:hidden;clip:rect(0,0,0,0);border:0}@media (max-width:600px){.wp-block-media-text.is-stacked-on-mobile{grid-template-columns:100%!important}.wp-block-media-text.is-stacked-on-mobile .wp-block-media-text__media{grid-column:1;grid-row:1}.wp-block-media-text.is-stacked-on-mobile .wp-block-media-text__content{grid-column:1;grid-row:2}}.wp-block-navigation{position:relative;--navigation-layout-justification-setting:flex-start;--navigation-layout-direction:row;--navigation-layout-wrap:wrap;--navigation-layout-justify:flex-start;--navigation-layout-align:center}.wp-block-navigation ul{margin-top:0;margin-bottom:0;margin-left:0;padding-left:0}.wp-block-navigation ul,.wp-block-navigation ul li{list-style:none;padding:0}.wp-block-navigation .wp-block-navigation-item{display:flex;align-items:center;position:relative}.wp-block-navigation .wp-block-navigation-item .wp-block-navigation__submenu-container:empty{display:none}.wp-block-navigation .wp-block-navigation-item__content{color:inherit;display:block;padding:0}.wp-block-navigation.has-text-decoration-underline .wp-block-navigation-item__content,.wp-block-navigation.has-text-decoration-underline .wp-block-navigation-item__content:active,.wp-block-navigation.has-text-decoration-underline .wp-block-navigation-item__content:focus{text-decoration:underline}.wp-block-navigation.has-text-decoration-line-through .wp-block-navigation-item__content,.wp-block-navigation.has-text-decoration-line-through .wp-block-navigation-item__content:active,.wp-block-navigation.has-text-decoration-line-through .wp-block-navigation-item__content:focus{text-decoration:line-through}.wp-block-navigation:where(:not([class*=has-text-decoration])) a,.wp-block-navigation:where(:not([class*=has-text-decoration])) a:active,.wp-block-navigation:where(:not([class*=has-text-decoration])) a:focus{text-decoration:none}.wp-block-navigation .wp-block-navigation__submenu-icon{align-self:center;line-height:0;display:inline-block;font-size:inherit;padding:0;background-color:inherit;color:currentColor;border:none;width:.6em;height:.6em;margin-left:.25em}.wp-block-navigation .wp-block-navigation__submenu-icon svg{display:inline-block;stroke:currentColor;width:inherit;height:inherit;margin-top:.075em}.wp-block-navigation.is-vertical{--navigation-layout-direction:column;--navigation-layout-justify:initial;--navigation-layout-align:flex-start}.wp-block-navigation.no-wrap{--navigation-layout-wrap:nowrap}.wp-block-navigation.items-justified-center{--navigation-layout-justification-setting:center;--navigation-layout-justify:center}.wp-block-navigation.items-justified-center.is-vertical{--navigation-layout-align:center}.wp-block-navigation.items-justified-right{--navigation-layout-justification-setting:flex-end;--navigation-layout-justify:flex-end}.wp-block-navigation.items-justified-right.is-vertical{--navigation-layout-align:flex-end}.wp-block-navigation.items-justified-space-between{--navigation-layout-justification-setting:space-between;--navigation-layout-justify:space-between}.wp-block-navigation .has-child :where(.wp-block-navigation__submenu-container){background-color:inherit;color:inherit;position:absolute;z-index:2;display:flex;flex-direction:column;align-items:normal;opacity:0;transition:opacity .1s linear;visibility:hidden;width:0;height:0;overflow:hidden;left:-1px;top:100%}.wp-block-navigation .has-child :where(.wp-block-navigation__submenu-container)>.wp-block-navigation-item>.wp-block-navigation-item__content{display:flex;flex-grow:1}.wp-block-navigation .has-child :where(.wp-block-navigation__submenu-container)>.wp-block-navigation-item>.wp-block-navigation-item__content .wp-block-navigation__submenu-icon{margin-right:0;margin-left:auto}.wp-block-navigation .has-child :where(.wp-block-navigation__submenu-container) .wp-block-navigation-item__content{margin:0}@media (min-width:782px){.wp-block-navigation .has-child :where(.wp-block-navigation__submenu-container) .wp-block-navigation__submenu-container{left:100%;top:-1px}.wp-block-navigation .has-child :where(.wp-block-navigation__submenu-container) .wp-block-navigation__submenu-container:before{content:"";position:absolute;right:100%;height:100%;display:block;width:.5em;background:transparent}.wp-block-navigation .has-child :where(.wp-block-navigation__submenu-container) .wp-block-navigation__submenu-icon{margin-right:.25em}.wp-block-navigation .has-child :where(.wp-block-navigation__submenu-container) .wp-block-navigation__submenu-icon svg{transform:rotate(-90deg)}}.wp-block-navigation .has-child:where(:not(.open-on-click)):hover>.wp-block-navigation__submenu-container{visibility:visible;overflow:visible;opacity:1;width:auto;height:auto;min-width:200px}.wp-block-navigation .has-child:where(:not(.open-on-click):not(.open-on-hover-click)):focus-within>.wp-block-navigation__submenu-container{visibility:visible;overflow:visible;opacity:1;width:auto;height:auto;min-width:200px}.wp-block-navigation .has-child .wp-block-navigation-submenu__toggle[aria-expanded=true]~.wp-block-navigation__submenu-container{visibility:visible;overflow:visible;opacity:1;width:auto;height:auto;min-width:200px}.wp-block-navigation.has-background .has-child .wp-block-navigation__submenu-container{left:0;top:100%}@media (min-width:782px){.wp-block-navigation.has-background .has-child .wp-block-navigation__submenu-container .wp-block-navigation__submenu-container{left:100%;top:0}}.wp-block-navigation-submenu{position:relative;display:flex}.wp-block-navigation-submenu .wp-block-navigation__submenu-icon svg{stroke:currentColor}button.wp-block-navigation-item__content{background-color:transparent;border:none;color:currentColor;font-size:inherit;font-family:inherit;line-height:inherit;font-style:inherit;font-weight:inherit;text-transform:inherit;text-align:left}.wp-block-navigation-submenu__toggle{cursor:pointer}.wp-block-navigation-item.open-on-click .wp-block-navigation-submenu__toggle{padding-right:.85em}.wp-block-navigation-item.open-on-click .wp-block-navigation-submenu__toggle+.wp-block-navigation__submenu-icon{margin-left:-.6em;pointer-events:none}.wp-block-navigation,.wp-block-navigation .wp-block-page-list,.wp-block-navigation:where(.has-background),.wp-block-navigation:where(.has-background) .wp-block-navigation .wp-block-page-list,.wp-block-navigation:where(.has-background) .wp-block-navigation__container,.wp-block-navigation__container,.wp-block-navigation__responsive-close,.wp-block-navigation__responsive-container,.wp-block-navigation__responsive-container-content,.wp-block-navigation__responsive-dialog{gap:inherit}.wp-block-navigation:where(.has-background) .wp-block-navigation-item__content,.wp-block-navigation :where(.wp-block-navigation__submenu-container) .wp-block-navigation-item__content{padding:.5em 1em}.wp-block-navigation.items-justified-right .wp-block-navigation__container .has-child .wp-block-navigation__submenu-container,.wp-block-navigation.items-justified-right .wp-block-page-list>.has-child .wp-block-navigation__submenu-container,.wp-block-navigation.items-justified-space-between .wp-block-page-list>.has-child:last-child .wp-block-navigation__submenu-container,.wp-block-navigation.items-justified-space-between>.wp-block-navigation__container>.has-child:last-child .wp-block-navigation__submenu-container{left:auto;right:0}.wp-block-navigation.items-justified-right .wp-block-navigation__container .has-child .wp-block-navigation__submenu-container .wp-block-navigation__submenu-container,.wp-block-navigation.items-justified-right .wp-block-page-list>.has-child .wp-block-navigation__submenu-container .wp-block-navigation__submenu-container,.wp-block-navigation.items-justified-space-between .wp-block-page-list>.has-child:last-child .wp-block-navigation__submenu-container .wp-block-navigation__submenu-container,.wp-block-navigation.items-justified-space-between>.wp-block-navigation__container>.has-child:last-child .wp-block-navigation__submenu-container .wp-block-navigation__submenu-container{left:-1px;right:-1px}@media (min-width:782px){.wp-block-navigation.items-justified-right .wp-block-navigation__container .has-child .wp-block-navigation__submenu-container .wp-block-navigation__submenu-container,.wp-block-navigation.items-justified-right .wp-block-page-list>.has-child .wp-block-navigation__submenu-container .wp-block-navigation__submenu-container,.wp-block-navigation.items-justified-space-between .wp-block-page-list>.has-child:last-child .wp-block-navigation__submenu-container .wp-block-navigation__submenu-container,.wp-block-navigation.items-justified-space-between>.wp-block-navigation__container>.has-child:last-child .wp-block-navigation__submenu-container .wp-block-navigation__submenu-container{left:auto;right:100%}}.wp-block-navigation:not(.has-background) .wp-block-navigation__submenu-container{background-color:#fff;color:#000;border:1px solid rgba(0,0,0,.15)}.wp-block-navigation__container{display:flex;flex-wrap:var(--navigation-layout-wrap,wrap);flex-direction:var(--navigation-layout-direction,initial);justify-content:var(--navigation-layout-justify,initial);align-items:var(--navigation-layout-align,initial);list-style:none;margin:0;padding-left:0}.wp-block-navigation__container .is-responsive{display:none}.wp-block-navigation__container:only-child,.wp-block-page-list:only-child{flex-grow:1}.wp-block-navigation__responsive-container{display:none;position:fixed;top:0;left:0;right:0;bottom:0}.wp-block-navigation__responsive-container .wp-block-navigation__responsive-container-content{display:flex;flex-wrap:var(--navigation-layout-wrap,wrap);flex-direction:var(--navigation-layout-direction,initial);justify-content:var(--navigation-layout-justify,initial);align-items:var(--navigation-layout-align,initial)}.wp-block-navigation__responsive-container:not(.is-menu-open.is-menu-open){color:inherit!important;background-color:inherit!important}.wp-block-navigation__responsive-container.is-menu-open{display:flex;flex-direction:column;background-color:inherit;padding:2rem;overflow:auto;z-index:100000}.wp-block-navigation__responsive-container.is-menu-open .wp-block-navigation__responsive-container-content{padding-top:calc(2rem + 24px);overflow:visible;display:flex;flex-direction:column;flex-wrap:nowrap;align-items:var(--navigation-layout-justification-setting,inherit)}.wp-block-navigation__responsive-container.is-menu-open .wp-block-navigation__responsive-container-content,.wp-block-navigation__responsive-container.is-menu-open .wp-block-navigation__responsive-container-content .wp-block-navigation__container,.wp-block-navigation__responsive-container.is-menu-open .wp-block-navigation__responsive-container-content .wp-block-page-list{justify-content:flex-start}.wp-block-navigation__responsive-container.is-menu-open .wp-block-navigation__responsive-container-content .wp-block-navigation__submenu-icon{display:none}.wp-block-navigation__responsive-container.is-menu-open .wp-block-navigation__responsive-container-content .has-child .submenu-container,.wp-block-navigation__responsive-container.is-menu-open .wp-block-navigation__responsive-container-content .has-child .wp-block-navigation__submenu-container{opacity:1;visibility:visible;height:auto;width:auto;overflow:initial;min-width:200px;position:static;border:none;padding-left:2rem;padding-right:2rem}.wp-block-navigation__responsive-container.is-menu-open .wp-block-navigation__responsive-container-content .wp-block-navigation__container,.wp-block-navigation__responsive-container.is-menu-open .wp-block-navigation__responsive-container-content .wp-block-navigation__submenu-container{gap:inherit}.wp-block-navigation__responsive-container.is-menu-open .wp-block-navigation__responsive-container-content .wp-block-navigation__submenu-container{padding-top:var(--wp--style--block-gap,2em)}.wp-block-navigation__responsive-container.is-menu-open .wp-block-navigation__responsive-container-content .wp-block-navigation-item__content{padding:0}.wp-block-navigation__responsive-container.is-menu-open .wp-block-navigation__responsive-container-content .wp-block-navigation-item,.wp-block-navigation__responsive-container.is-menu-open .wp-block-navigation__responsive-container-content .wp-block-navigation__container,.wp-block-navigation__responsive-container.is-menu-open .wp-block-navigation__responsive-container-content .wp-block-page-list{display:flex;flex-direction:column;align-items:var(--navigation-layout-justification-setting,initial)}.wp-block-navigation__responsive-container.is-menu-open .wp-block-navigation-item,.wp-block-navigation__responsive-container.is-menu-open .wp-block-navigation-item .wp-block-navigation__submenu-container,.wp-block-navigation__responsive-container.is-menu-open .wp-block-page-list{color:inherit!important;background:transparent!important}.wp-block-navigation__responsive-container.is-menu-open .wp-block-navigation__submenu-container.wp-block-navigation__submenu-container.wp-block-navigation__submenu-container.wp-block-navigation__submenu-container{right:auto;left:auto}@media (min-width:600px){.wp-block-navigation__responsive-container:not(.hidden-by-default):not(.is-menu-open){display:block;width:100%;position:relative;z-index:auto;background-color:inherit}.wp-block-navigation__responsive-container:not(.hidden-by-default):not(.is-menu-open) .wp-block-navigation__responsive-container-close{display:none}.wp-block-navigation__responsive-container.is-menu-open .wp-block-navigation__submenu-container.wp-block-navigation__submenu-container.wp-block-navigation__submenu-container.wp-block-navigation__submenu-container{left:0}}.wp-block-navigation:not(.has-background) .wp-block-navigation__responsive-container.is-menu-open{background-color:#fff;color:#000}.wp-block-navigation__toggle_button_label{font-size:1rem;font-weight:700}.wp-block-navigation__responsive-container-close,.wp-block-navigation__responsive-container-open{vertical-align:middle;cursor:pointer;color:currentColor;background:transparent;border:none;margin:0;padding:0}.wp-block-navigation__responsive-container-close svg,.wp-block-navigation__responsive-container-open svg{fill:currentColor;pointer-events:none;display:block;width:24px;height:24px}.wp-block-navigation__responsive-container-open{display:flex}@media (min-width:600px){.wp-block-navigation__responsive-container-open:not(.always-shown){display:none}}.wp-block-navigation__responsive-container-close{position:absolute;top:0;right:0;z-index:2}.wp-block-navigation__responsive-close{width:100%}.wp-block-navigation__responsive-close:focus{outline:none}.is-menu-open .wp-block-navigation__responsive-close,.is-menu-open .wp-block-navigation__responsive-container-content,.is-menu-open .wp-block-navigation__responsive-dialog{box-sizing:border-box}.wp-block-navigation__responsive-dialog{position:relative}html.has-modal-open{overflow:hidden}.wp-block-navigation .wp-block-navigation-item__label{word-break:normal;overflow-wrap:break-word}.wp-block-navigation .wp-block-navigation-item__description{display:none}.wp-block-navigation .wp-block-page-list{display:flex;flex-direction:var(--navigation-layout-direction,initial);justify-content:var(--navigation-layout-justify,initial);align-items:var(--navigation-layout-align,initial);flex-wrap:var(--navigation-layout-wrap,wrap);background-color:inherit}.wp-block-navigation .wp-block-navigation-item{background-color:inherit}.is-small-text{font-size:.875em}.is-regular-text{font-size:1em}.is-large-text{font-size:2.25em}.is-larger-text{font-size:3em}.has-drop-cap:not(:focus):first-letter{float:left;font-size:8.4em;line-height:.68;font-weight:100;margin:.05em .1em 0 0;text-transform:uppercase;font-style:normal}p.has-drop-cap.has-background{overflow:hidden}p.has-background{padding:1.25em 2.375em}:where(p.has-text-color:not(.has-link-color)) a{color:inherit}.wp-block-post-author{display:flex;flex-wrap:wrap}.wp-block-post-author__byline{width:100%;margin-top:0;margin-bottom:0;font-size:.5em}.wp-block-post-author__avatar{margin-right:1em}.wp-block-post-author__bio{margin-bottom:.7em;font-size:.7em}.wp-block-post-author__content{flex-grow:1;flex-basis:0}.wp-block-post-author__name{margin:0}.wp-block-post-comments .alignleft{float:left}.wp-block-post-comments .alignright{float:right}.wp-block-post-comments .navigation:after{content:"";display:table;clear:both}.wp-block-post-comments .commentlist{clear:both;list-style:none;margin:0;padding:0}.wp-block-post-comments .commentlist .comment{min-height:2.25em;padding-left:3.25em}.wp-block-post-comments .commentlist .comment p{font-size:1em;line-height:1.8;margin:1em 0}.wp-block-post-comments .commentlist .children{list-style:none;margin:0;padding:0}.wp-block-post-comments .comment-author{line-height:1.5}.wp-block-post-comments .comment-author .avatar{border-radius:1.5em;display:block;float:left;height:2.5em;margin-top:.5em;margin-right:.75em;width:2.5em}.wp-block-post-comments .comment-author cite{font-style:normal}.wp-block-post-comments .comment-meta{font-size:.875em;line-height:1.5}.wp-block-post-comments .comment-meta b{font-weight:400}.wp-block-post-comments .comment-meta .comment-awaiting-moderation{margin-top:1em;margin-bottom:1em;display:block}.wp-block-post-comments .comment-body .commentmetadata{font-size:.875em}.wp-block-post-comments .comment-form-author label,.wp-block-post-comments .comment-form-comment label,.wp-block-post-comments .comment-form-email label,.wp-block-post-comments .comment-form-url label{display:block;margin-bottom:.25em}.wp-block-post-comments .comment-form input:not([type=submit]):not([type=checkbox]),.wp-block-post-comments .comment-form textarea{display:block;box-sizing:border-box;width:100%}.wp-block-post-comments .comment-form-cookies-consent{display:flex;gap:.25em}.wp-block-post-comments .comment-form-cookies-consent #wp-comment-cookies-consent{margin-top:.35em}.wp-block-post-comments .comment-reply-title{margin-bottom:0}.wp-block-post-comments .comment-reply-title :where(small){font-size:var(--wp--preset--font-size--medium,smaller);margin-left:.5em}.wp-block-post-comments .reply{font-size:.875em;margin-bottom:1.4em}.wp-block-post-comments input:not([type=submit]),.wp-block-post-comments textarea{border:1px solid #949494;font-size:1em;font-family:inherit}.wp-block-post-comments input:not([type=submit]):not([type=checkbox]),.wp-block-post-comments textarea{padding:calc(.667em + 2px)}.wp-block-post-comments input[type=submit]{border:none}.wp-block-post-comments-form[style*=font-weight] :where(.comment-reply-title){font-weight:inherit}.wp-block-post-comments-form[style*=font-family] :where(.comment-reply-title){font-family:inherit}.wp-block-post-comments-form[class*=-font-size] :where(.comment-reply-title),.wp-block-post-comments-form[style*=font-size] :where(.comment-reply-title){font-size:inherit}.wp-block-post-comments-form[style*=line-height] :where(.comment-reply-title){line-height:inherit}.wp-block-post-comments-form[style*=font-style] :where(.comment-reply-title){font-style:inherit}.wp-block-post-comments-form[style*=letter-spacing] :where(.comment-reply-title){letter-spacing:inherit}.wp-block-post-comments-form input[type=submit]{border:none;box-shadow:none;cursor:pointer;display:inline-block;text-align:center;overflow-wrap:break-word}.wp-block-post-comments-form input:not([type=submit]),.wp-block-post-comments-form textarea{border:1px solid #949494;font-size:1em;font-family:inherit}.wp-block-post-comments-form input:not([type=submit]):not([type=checkbox]),.wp-block-post-comments-form textarea{padding:calc(.667em + 2px)}.wp-block-post-comments-form .comment-form input:not([type=submit]):not([type=checkbox]),.wp-block-post-comments-form .comment-form textarea{display:block;box-sizing:border-box;width:100%}.wp-block-post-comments-form .comment-form-author label,.wp-block-post-comments-form .comment-form-email label,.wp-block-post-comments-form .comment-form-url label{display:block;margin-bottom:.25em}.wp-block-post-comments-form .comment-form-cookies-consent{display:flex;gap:.25em}.wp-block-post-comments-form .comment-form-cookies-consent #wp-comment-cookies-consent{margin-top:.35em}.wp-block-post-comments-form .comment-reply-title{margin-bottom:0}.wp-block-post-comments-form .comment-reply-title :where(small){font-size:var(--wp--preset--font-size--medium,smaller);margin-left:.5em}.wp-block-post-excerpt__more-link{display:inline-block}.wp-block-post-featured-image{margin-left:0;margin-right:0}.wp-block-post-featured-image a{display:block}.wp-block-post-featured-image img{max-width:100%;width:100%;height:auto;vertical-align:bottom}.wp-block-post-featured-image.alignfull img,.wp-block-post-featured-image.alignwide img{width:100%}.wp-block-post-terms__separator{white-space:pre-wrap}.wp-block-post-title{word-break:break-word}.wp-block-post-title a{display:inline-block}.wp-block-preformatted{white-space:pre-wrap}.wp-block-preformatted.has-background{padding:1.25em 2.375em}.wp-block-pullquote{margin:0 0 1em;padding:3em 0;text-align:center;overflow-wrap:break-word;box-sizing:border-box}.wp-block-pullquote blockquote,.wp-block-pullquote cite,.wp-block-pullquote p{color:inherit}.wp-block-pullquote.alignleft,.wp-block-pullquote.alignright,.wp-block-pullquote.has-text-align-left,.wp-block-pullquote.has-text-align-right{max-width:420px}.wp-block-pullquote.alignleft p,.wp-block-pullquote.alignright p,.wp-block-pullquote.has-text-align-left p,.wp-block-pullquote.has-text-align-right p{font-size:1.25em}.wp-block-pullquote p{font-size:1.75em;line-height:1.6}.wp-block-pullquote cite,.wp-block-pullquote footer{position:relative}.wp-block-pullquote .has-text-color a{color:inherit}.wp-block-pullquote.has-text-align-left blockquote{text-align:left}.wp-block-pullquote.has-text-align-right blockquote{text-align:right}.wp-block-pullquote.is-style-solid-color{border:none}.wp-block-pullquote.is-style-solid-color blockquote{margin-left:auto;margin-right:auto;max-width:60%}.wp-block-pullquote.is-style-solid-color blockquote p{margin-top:0;margin-bottom:0;font-size:2em}.wp-block-pullquote.is-style-solid-color blockquote cite{text-transform:none;font-style:normal}.wp-block-pullquote cite{color:inherit}.wp-block-post-template,.wp-block-query-loop{margin-top:0;margin-bottom:0;max-width:100%;list-style:none;padding:0}.wp-block-post-template.wp-block-post-template,.wp-block-query-loop.wp-block-post-template{background:none}.wp-block-post-template.is-flex-container,.wp-block-query-loop.is-flex-container{flex-direction:row;display:flex;flex-wrap:wrap;gap:1.25em}.wp-block-post-template.is-flex-container li,.wp-block-query-loop.is-flex-container li{margin:0;width:100%}@media (min-width:600px){.wp-block-post-template.is-flex-container.is-flex-container.columns-2>li,.wp-block-query-loop.is-flex-container.is-flex-container.columns-2>li{width:calc(50% - .625em)}.wp-block-post-template.is-flex-container.is-flex-container.columns-3>li,.wp-block-query-loop.is-flex-container.is-flex-container.columns-3>li{width:calc(33.33333% - .83333em)}.wp-block-post-template.is-flex-container.is-flex-container.columns-4>li,.wp-block-query-loop.is-flex-container.is-flex-container.columns-4>li{width:calc(25% - .9375em)}.wp-block-post-template.is-flex-container.is-flex-container.columns-5>li,.wp-block-query-loop.is-flex-container.is-flex-container.columns-5>li{width:calc(20% - 1em)}.wp-block-post-template.is-flex-container.is-flex-container.columns-6>li,.wp-block-query-loop.is-flex-container.is-flex-container.columns-6>li{width:calc(16.66667% - 1.04167em)}}.wp-block-query-pagination>.wp-block-query-pagination-next,.wp-block-query-pagination>.wp-block-query-pagination-numbers,.wp-block-query-pagination>.wp-block-query-pagination-previous{margin-right:.5em;margin-bottom:.5em}.wp-block-query-pagination>.wp-block-query-pagination-next:last-child,.wp-block-query-pagination>.wp-block-query-pagination-numbers:last-child,.wp-block-query-pagination>.wp-block-query-pagination-previous:last-child{margin-right:0}.wp-block-query-pagination .wp-block-query-pagination-previous-arrow{margin-right:1ch;display:inline-block}.wp-block-query-pagination .wp-block-query-pagination-previous-arrow:not(.is-arrow-chevron){transform:scaleX(1)}.wp-block-query-pagination .wp-block-query-pagination-next-arrow{margin-left:1ch;display:inline-block}.wp-block-query-pagination .wp-block-query-pagination-next-arrow:not(.is-arrow-chevron){transform:scaleX(1)}.wp-block-query-pagination.aligncenter{justify-content:center}.wp-block-quote{box-sizing:border-box;overflow-wrap:break-word}.wp-block-quote.is-large:not(.is-style-plain),.wp-block-quote.is-style-large:not(.is-style-plain){margin-bottom:1em;padding:0 1em}.wp-block-quote.is-large:not(.is-style-plain) p,.wp-block-quote.is-style-large:not(.is-style-plain) p{font-size:1.5em;font-style:italic;line-height:1.6}.wp-block-quote.is-large:not(.is-style-plain) cite,.wp-block-quote.is-large:not(.is-style-plain) footer,.wp-block-quote.is-style-large:not(.is-style-plain) cite,.wp-block-quote.is-style-large:not(.is-style-plain) footer{font-size:1.125em;text-align:right}.wp-block-read-more{display:block;width:-moz-fit-content;width:fit-content}.wp-block-read-more:not([style*=text-decoration]),.wp-block-read-more:not([style*=text-decoration]):active,.wp-block-read-more:not([style*=text-decoration]):focus{text-decoration:none}ul.wp-block-rss{list-style:none;padding:0}ul.wp-block-rss.wp-block-rss{box-sizing:border-box}ul.wp-block-rss.alignleft{margin-right:2em}ul.wp-block-rss.alignright{margin-left:2em}ul.wp-block-rss.is-grid{display:flex;flex-wrap:wrap;padding:0;list-style:none}ul.wp-block-rss.is-grid li{margin:0 1em 1em 0;width:100%}@media (min-width:600px){ul.wp-block-rss.columns-2 li{width:calc(50% - 1em)}ul.wp-block-rss.columns-3 li{width:calc(33.33333% - 1em)}ul.wp-block-rss.columns-4 li{width:calc(25% - 1em)}ul.wp-block-rss.columns-5 li{width:calc(20% - 1em)}ul.wp-block-rss.columns-6 li{width:calc(16.66667% - 1em)}}.wp-block-rss__item-author,.wp-block-rss__item-publish-date{display:block;font-size:.8125em}.wp-block-search__button{background:#f7f7f7;border:1px solid #ccc;padding:.375em .625em;color:#32373c;margin-left:.625em;word-break:normal;font-size:inherit;font-family:inherit;line-height:inherit}.wp-block-search__button.has-icon{line-height:0}.wp-block-search__button svg{min-width:1.5em;min-height:1.5em;fill:currentColor}.wp-block-search__inside-wrapper{display:flex;flex:auto;flex-wrap:nowrap;max-width:100%}.wp-block-search__label{width:100%}.wp-block-search__input{padding:8px;flex-grow:1;min-width:3em;border:1px solid #949494;font-size:inherit;font-family:inherit;line-height:inherit}.wp-block-search.wp-block-search__button-only .wp-block-search__button{margin-left:0}.wp-block-search.wp-block-search__button-inside .wp-block-search__inside-wrapper{padding:4px;border:1px solid #949494}.wp-block-search.wp-block-search__button-inside .wp-block-search__inside-wrapper .wp-block-search__input{border-radius:0;border:none;padding:0 0 0 .25em}.wp-block-search.wp-block-search__button-inside .wp-block-search__inside-wrapper .wp-block-search__input:focus{outline:none}.wp-block-search.wp-block-search__button-inside .wp-block-search__inside-wrapper .wp-block-search__button{padding:.125em .5em}.wp-block-search.aligncenter .wp-block-search__inside-wrapper{margin:auto}.wp-block-separator{border-top:1px solid;border-bottom:1px solid}.wp-block-separator.is-style-dots{background:none!important;border:none;text-align:center;line-height:1;height:auto}.wp-block-separator.is-style-dots:before{content:"···";color:currentColor;font-size:1.5em;letter-spacing:2em;padding-left:2em;font-family:serif}.wp-block-site-logo{line-height:0}.wp-block-site-logo a{display:inline-block}.wp-block-site-logo.is-default-size img{width:120px;height:auto}.wp-block-site-logo a,.wp-block-site-logo img{border-radius:inherit}.wp-block-site-logo.aligncenter{margin-left:auto;margin-right:auto;text-align:center}.wp-block-site-logo.is-style-rounded{border-radius:9999px}.wp-block-social-links{padding-left:0;padding-right:0;text-indent:0;margin-left:0;background:none}.wp-block-social-links .wp-social-link a,.wp-block-social-links .wp-social-link a:hover{text-decoration:none;border-bottom:0;box-shadow:none}.wp-block-social-links .wp-social-link a{padding:.25em}.wp-block-social-links .wp-social-link svg{width:1em;height:1em}.wp-block-social-links .wp-social-link span:not(.screen-reader-text){margin-left:.5em;margin-right:.5em;font-size:.65em}.wp-block-social-links.has-small-icon-size{font-size:16px}.wp-block-social-links,.wp-block-social-links.has-normal-icon-size{font-size:24px}.wp-block-social-links.has-large-icon-size{font-size:36px}.wp-block-social-links.has-huge-icon-size{font-size:48px}.wp-block-social-links.aligncenter{justify-content:center;display:flex}.wp-block-social-links.alignright{justify-content:flex-end}.wp-block-social-link{display:block;border-radius:9999px;transition:transform .1s ease;height:auto}@media (prefers-reduced-motion:reduce){.wp-block-social-link{transition-duration:0s;transition-delay:0s}}.wp-block-social-link a{align-items:center;display:flex;line-height:0;transition:transform .1s ease}.wp-block-social-link:hover{transform:scale(1.1)}.wp-block-social-links .wp-block-social-link .wp-block-social-link-anchor,.wp-block-social-links .wp-block-social-link .wp-block-social-link-anchor:active,.wp-block-social-links .wp-block-social-link .wp-block-social-link-anchor:hover,.wp-block-social-links .wp-block-social-link .wp-block-social-link-anchor:visited,.wp-block-social-links .wp-block-social-link .wp-block-social-link-anchor svg{color:currentColor;fill:currentColor}.wp-block-social-links:not(.is-style-logos-only) .wp-social-link{background-color:#f0f0f0;color:#444}.wp-block-social-links:not(.is-style-logos-only) .wp-social-link-amazon{background-color:#f90;color:#fff}.wp-block-social-links:not(.is-style-logos-only) .wp-social-link-bandcamp{background-color:#1ea0c3;color:#fff}.wp-block-social-links:not(.is-style-logos-only) .wp-social-link-behance{background-color:#0757fe;color:#fff}.wp-block-social-links:not(.is-style-logos-only) .wp-social-link-codepen{background-color:#1e1f26;color:#fff}.wp-block-social-links:not(.is-style-logos-only) .wp-social-link-deviantart{background-color:#02e49b;color:#fff}.wp-block-social-links:not(.is-style-logos-only) .wp-social-link-dribbble{background-color:#e94c89;color:#fff}.wp-block-social-links:not(.is-style-logos-only) .wp-social-link-dropbox{background-color:#4280ff;color:#fff}.wp-block-social-links:not(.is-style-logos-only) .wp-social-link-etsy{background-color:#f45800;color:#fff}.wp-block-social-links:not(.is-style-logos-only) .wp-social-link-facebook{background-color:#1778f2;color:#fff}.wp-block-social-links:not(.is-style-logos-only) .wp-social-link-fivehundredpx{background-color:#000;color:#fff}.wp-block-social-links:not(.is-style-logos-only) .wp-social-link-flickr{background-color:#0461dd;color:#fff}.wp-block-social-links:not(.is-style-logos-only) .wp-social-link-foursquare{background-color:#e65678;color:#fff}.wp-block-social-links:not(.is-style-logos-only) .wp-social-link-github{background-color:#24292d;color:#fff}.wp-block-social-links:not(.is-style-logos-only) .wp-social-link-goodreads{background-color:#eceadd;color:#382110}.wp-block-social-links:not(.is-style-logos-only) .wp-social-link-google{background-color:#ea4434;color:#fff}.wp-block-social-links:not(.is-style-logos-only) .wp-social-link-instagram{background-color:#f00075;color:#fff}.wp-block-social-links:not(.is-style-logos-only) .wp-social-link-lastfm{background-color:#e21b24;color:#fff}.wp-block-social-links:not(.is-style-logos-only) .wp-social-link-linkedin{background-color:#0d66c2;color:#fff}.wp-block-social-links:not(.is-style-logos-only) .wp-social-link-mastodon{background-color:#3288d4;color:#fff}.wp-block-social-links:not(.is-style-logos-only) .wp-social-link-medium{background-color:#02ab6c;color:#fff}.wp-block-social-links:not(.is-style-logos-only) .wp-social-link-meetup{background-color:#f6405f;color:#fff}.wp-block-social-links:not(.is-style-logos-only) .wp-social-link-patreon{background-color:#ff424d;color:#fff}.wp-block-social-links:not(.is-style-logos-only) .wp-social-link-pinterest{background-color:#e60122;color:#fff}.wp-block-social-links:not(.is-style-logos-only) .wp-social-link-pocket{background-color:#ef4155;color:#fff}.wp-block-social-links:not(.is-style-logos-only) .wp-social-link-reddit{background-color:#fe4500;color:#fff}.wp-block-social-links:not(.is-style-logos-only) .wp-social-link-skype{background-color:#0478d7;color:#fff}.wp-block-social-links:not(.is-style-logos-only) .wp-social-link-snapchat{background-color:#fefc00;color:#fff;stroke:#000}.wp-block-social-links:not(.is-style-logos-only) .wp-social-link-soundcloud{background-color:#ff5600;color:#fff}.wp-block-social-links:not(.is-style-logos-only) .wp-social-link-spotify{background-color:#1bd760;color:#fff}.wp-block-social-links:not(.is-style-logos-only) .wp-social-link-telegram{background-color:#2aabee;color:#fff}.wp-block-social-links:not(.is-style-logos-only) .wp-social-link-tiktok{background-color:#000;color:#fff}.wp-block-social-links:not(.is-style-logos-only) .wp-social-link-tumblr{background-color:#011835;color:#fff}.wp-block-social-links:not(.is-style-logos-only) .wp-social-link-twitch{background-color:#6440a4;color:#fff}.wp-block-social-links:not(.is-style-logos-only) .wp-social-link-twitter{background-color:#1da1f2;color:#fff}.wp-block-social-links:not(.is-style-logos-only) .wp-social-link-vimeo{background-color:#1eb7ea;color:#fff}.wp-block-social-links:not(.is-style-logos-only) .wp-social-link-vk{background-color:#4680c2;color:#fff}.wp-block-social-links:not(.is-style-logos-only) .wp-social-link-wordpress{background-color:#3499cd;color:#fff}.wp-block-social-links:not(.is-style-logos-only) .wp-social-link-yelp{background-color:#d32422;color:#fff}.wp-block-social-links:not(.is-style-logos-only) .wp-social-link-youtube{background-color:red;color:#fff}.wp-block-social-links.is-style-logos-only .wp-social-link{background:none}.wp-block-social-links.is-style-logos-only .wp-social-link a{padding:0}.wp-block-social-links.is-style-logos-only .wp-social-link svg{width:1.25em;height:1.25em}.wp-block-social-links.is-style-logos-only .wp-social-link-amazon{color:#f90}.wp-block-social-links.is-style-logos-only .wp-social-link-bandcamp{color:#1ea0c3}.wp-block-social-links.is-style-logos-only .wp-social-link-behance{color:#0757fe}.wp-block-social-links.is-style-logos-only .wp-social-link-codepen{color:#1e1f26}.wp-block-social-links.is-style-logos-only .wp-social-link-deviantart{color:#02e49b}.wp-block-social-links.is-style-logos-only .wp-social-link-dribbble{color:#e94c89}.wp-block-social-links.is-style-logos-only .wp-social-link-dropbox{color:#4280ff}.wp-block-social-links.is-style-logos-only .wp-social-link-etsy{color:#f45800}.wp-block-social-links.is-style-logos-only .wp-social-link-facebook{color:#1778f2}.wp-block-social-links.is-style-logos-only .wp-social-link-fivehundredpx{color:#000}.wp-block-social-links.is-style-logos-only .wp-social-link-flickr{color:#0461dd}.wp-block-social-links.is-style-logos-only .wp-social-link-foursquare{color:#e65678}.wp-block-social-links.is-style-logos-only .wp-social-link-github{color:#24292d}.wp-block-social-links.is-style-logos-only .wp-social-link-goodreads{color:#382110}.wp-block-social-links.is-style-logos-only .wp-social-link-google{color:#ea4434}.wp-block-social-links.is-style-logos-only .wp-social-link-instagram{color:#f00075}.wp-block-social-links.is-style-logos-only .wp-social-link-lastfm{color:#e21b24}.wp-block-social-links.is-style-logos-only .wp-social-link-linkedin{color:#0d66c2}.wp-block-social-links.is-style-logos-only .wp-social-link-mastodon{color:#3288d4}.wp-block-social-links.is-style-logos-only .wp-social-link-medium{color:#02ab6c}.wp-block-social-links.is-style-logos-only .wp-social-link-meetup{color:#f6405f}.wp-block-social-links.is-style-logos-only .wp-social-link-patreon{color:#ff424d}.wp-block-social-links.is-style-logos-only .wp-social-link-pinterest{color:#e60122}.wp-block-social-links.is-style-logos-only .wp-social-link-pocket{color:#ef4155}.wp-block-social-links.is-style-logos-only .wp-social-link-reddit{color:#fe4500}.wp-block-social-links.is-style-logos-only .wp-social-link-skype{color:#0478d7}.wp-block-social-links.is-style-logos-only .wp-social-link-snapchat{color:#fff;stroke:#000}.wp-block-social-links.is-style-logos-only .wp-social-link-soundcloud{color:#ff5600}.wp-block-social-links.is-style-logos-only .wp-social-link-spotify{color:#1bd760}.wp-block-social-links.is-style-logos-only .wp-social-link-telegram{color:#2aabee}.wp-block-social-links.is-style-logos-only .wp-social-link-tiktok{color:#000}.wp-block-social-links.is-style-logos-only .wp-social-link-tumblr{color:#011835}.wp-block-social-links.is-style-logos-only .wp-social-link-twitch{color:#6440a4}.wp-block-social-links.is-style-logos-only .wp-social-link-twitter{color:#1da1f2}.wp-block-social-links.is-style-logos-only .wp-social-link-vimeo{color:#1eb7ea}.wp-block-social-links.is-style-logos-only .wp-social-link-vk{color:#4680c2}.wp-block-social-links.is-style-logos-only .wp-social-link-wordpress{color:#3499cd}.wp-block-social-links.is-style-logos-only .wp-social-link-yelp{color:#d32422}.wp-block-social-links.is-style-logos-only .wp-social-link-youtube{color:red}.wp-block-social-links.is-style-pill-shape .wp-social-link{width:auto}.wp-block-social-links.is-style-pill-shape .wp-social-link a{padding-left:.66667em;padding-right:.66667em}.wp-block-spacer{clear:both}.wp-block-tag-cloud.aligncenter{text-align:center}.wp-block-tag-cloud.alignfull{padding-left:1em;padding-right:1em}.wp-block-tag-cloud a{display:inline-block;margin-right:5px}.wp-block-tag-cloud span{display:inline-block;margin-left:5px;text-decoration:none}.wp-block-tag-cloud.is-style-outline{display:flex;flex-wrap:wrap;gap:1ch}.wp-block-tag-cloud.is-style-outline a{border:1px solid;font-size:unset!important;margin-right:0;padding:1ch 2ch;text-decoration:none!important}.wp-block-table{margin:0 0 1em;overflow-x:auto}.wp-block-table table{border-collapse:collapse;width:100%}.wp-block-table .has-fixed-layout{table-layout:fixed;width:100%}.wp-block-table .has-fixed-layout td,.wp-block-table .has-fixed-layout th{word-break:break-word}.wp-block-table.aligncenter,.wp-block-table.alignleft,.wp-block-table.alignright{display:table;width:auto}.wp-block-table.aligncenter td,.wp-block-table.aligncenter th,.wp-block-table.alignleft td,.wp-block-table.alignleft th,.wp-block-table.alignright td,.wp-block-table.alignright th{word-break:break-word}.wp-block-table .has-subtle-light-gray-background-color{background-color:#f3f4f5}.wp-block-table .has-subtle-pale-green-background-color{background-color:#e9fbe5}.wp-block-table .has-subtle-pale-blue-background-color{background-color:#e7f5fe}.wp-block-table .has-subtle-pale-pink-background-color{background-color:#fcf0ef}.wp-block-table.is-style-stripes{border-spacing:0;border-collapse:inherit;background-color:transparent;border-bottom:1px solid #f0f0f0}.wp-block-table.is-style-stripes tbody tr:nth-child(odd){background-color:#f0f0f0}.wp-block-table.is-style-stripes.has-subtle-light-gray-background-color tbody tr:nth-child(odd){background-color:#f3f4f5}.wp-block-table.is-style-stripes.has-subtle-pale-green-background-color tbody tr:nth-child(odd){background-color:#e9fbe5}.wp-block-table.is-style-stripes.has-subtle-pale-blue-background-color tbody tr:nth-child(odd){background-color:#e7f5fe}.wp-block-table.is-style-stripes.has-subtle-pale-pink-background-color tbody tr:nth-child(odd){background-color:#fcf0ef}.wp-block-table.is-style-stripes td,.wp-block-table.is-style-stripes th{border-color:transparent}.wp-block-table .has-border-color>*,.wp-block-table .has-border-color td,.wp-block-table .has-border-color th,.wp-block-table .has-border-color tr{border-color:inherit}.wp-block-table table[style*=border-style]>*,.wp-block-table table[style*=border-style] td,.wp-block-table table[style*=border-style] th,.wp-block-table table[style*=border-style] tr{border-style:inherit}.wp-block-table table[style*=border-width]>*,.wp-block-table table[style*=border-width] td,.wp-block-table table[style*=border-width] th,.wp-block-table table[style*=border-width] tr{border-width:inherit;border-style:inherit}.wp-block-text-columns,.wp-block-text-columns.aligncenter{display:flex}.wp-block-text-columns .wp-block-column{margin:0 1em;padding:0}.wp-block-text-columns .wp-block-column:first-child{margin-left:0}.wp-block-text-columns .wp-block-column:last-child{margin-right:0}.wp-block-text-columns.columns-2 .wp-block-column{width:50%}.wp-block-text-columns.columns-3 .wp-block-column{width:33.33333%}.wp-block-text-columns.columns-4 .wp-block-column{width:25%}pre.wp-block-verse{font-family:inherit;overflow:auto;white-space:pre-wrap}.wp-block-video{margin:0 0 1em}.wp-block-video video{width:100%}@supports (position:sticky){.wp-block-video [poster]{-o-object-fit:cover;object-fit:cover}}.wp-block-video.aligncenter{text-align:center}.wp-block-video figcaption{margin-top:.5em;margin-bottom:1em}:root{--wp--preset--font-size--normal:16px;--wp--preset--font-size--huge:42px}:root .has-very-light-gray-background-color{background-color:#eee}:root .has-very-dark-gray-background-color{background-color:#313131}:root .has-very-light-gray-color{color:#eee}:root .has-very-dark-gray-color{color:#313131}:root .has-vivid-green-cyan-to-vivid-cyan-blue-gradient-background{background:linear-gradient(135deg,#00d084,#0693e3)}:root .has-purple-crush-gradient-background{background:linear-gradient(135deg,#34e2e4,#4721fb 50%,#ab1dfe)}:root .has-hazy-dawn-gradient-background{background:linear-gradient(135deg,#faaca8,#dad0ec)}:root .has-subdued-olive-gradient-background{background:linear-gradient(135deg,#fafae1,#67a671)}:root .has-atomic-cream-gradient-background{background:linear-gradient(135deg,#fdd79a,#004a59)}:root .has-nightshade-gradient-background{background:linear-gradient(135deg,#330968,#31cdcf)}:root .has-midnight-gradient-background{background:linear-gradient(135deg,#020381,#2874fc)}.has-regular-font-size{font-size:1em}.has-larger-font-size{font-size:2.625em}.has-normal-font-size{font-size:var(--wp--preset--font-size--normal)}.has-huge-font-size{font-size:var(--wp--preset--font-size--huge)}.has-text-align-center{text-align:center}.has-text-align-left{text-align:left}.has-text-align-right{text-align:right}#end-resizable-editor-section{display:none}.aligncenter{clear:both}.items-justified-left{justify-content:flex-start}.items-justified-center{justify-content:center}.items-justified-right{justify-content:flex-end}.items-justified-space-between{justify-content:space-between}.screen-reader-text{border:0;clip:rect(1px,1px,1px,1px);-webkit-clip-path:inset(50%);clip-path:inset(50%);height:1px;margin:-1px;overflow:hidden;padding:0;position:absolute;width:1px;word-wrap:normal!important}.screen-reader-text:focus{background-color:#ddd;clip:auto!important;-webkit-clip-path:none;clip-path:none;color:#444;display:block;font-size:1em;height:auto;left:5px;line-height:normal;padding:15px 23px 14px;text-decoration:none;top:5px;width:auto;z-index:100000}html :where(.has-border-color),html :where([style*=border-width]){border-style:solid}html :where(img[class*=wp-image-]){height:auto;max-width:100%} .interface-interface-skeleton__sidebar .acf-block-body .acf-block-fields{border:none;border-radius:8px}.interface-interface-skeleton__sidebar .acf-fields>.acf-field{border:none}.interface-interface-skeleton__sidebar td.acf-fields{padding:5px !important}.interface-interface-skeleton__sidebar .acf-repeater .acf-row-handle.order{padding:0;width:20px}.interface-interface-skeleton__sidebar .acf-repeater .acf-row:hover .acf-row-handle.order{background:var(--wp-admin-theme-color);color:#fff}.interface-interface-skeleton__sidebar .acf-repeater .acf-row-handle.remove{background:0 0;border-left-color:transparent;width:0;padding:0}.interface-interface-skeleton__sidebar .acf-repeater .acf-row-handle .acf-icon{left:-8px} body{--wp--preset--color--black:#000;--wp--preset--color--cyan-bluish-gray:#abb8c3;--wp--preset--color--white:#fff;--wp--preset--color--pale-pink:#f78da7;--wp--preset--color--vivid-red:#cf2e2e;--wp--preset--color--luminous-vivid-orange:#ff6900;--wp--preset--color--luminous-vivid-amber:#fcb900;--wp--preset--color--light-green-cyan:#7bdcb5;--wp--preset--color--vivid-green-cyan:#00d084;--wp--preset--color--pale-cyan-blue:#8ed1fc;--wp--preset--color--vivid-cyan-blue:#0693e3;--wp--preset--color--vivid-purple:#9b51e0;--wp--preset--gradient--vivid-cyan-blue-to-vivid-purple:linear-gradient(135deg,rgba(6,147,227,1) 0%,#9b51e0 100%);--wp--preset--gradient--light-green-cyan-to-vivid-green-cyan:linear-gradient(135deg,#7adcb4 0%,#00d082 100%);--wp--preset--gradient--luminous-vivid-amber-to-luminous-vivid-orange:linear-gradient(135deg,rgba(252,185,0,1) 0%,rgba(255,105,0,1) 100%);--wp--preset--gradient--luminous-vivid-orange-to-vivid-red:linear-gradient(135deg,rgba(255,105,0,1) 0%,#cf2e2e 100%);--wp--preset--gradient--very-light-gray-to-cyan-bluish-gray:linear-gradient(135deg,#eee 0%,#a9b8c3 100%);--wp--preset--gradient--cool-to-warm-spectrum:linear-gradient(135deg,#4aeadc 0%,#9778d1 20%,#cf2aba 40%,#ee2c82 60%,#fb6962 80%,#fef84c 100%);--wp--preset--gradient--blush-light-purple:linear-gradient(135deg,#ffceec 0%,#9896f0 100%);--wp--preset--gradient--blush-bordeaux:linear-gradient(135deg,#fecda5 0%,#fe2d2d 50%,#6b003e 100%);--wp--preset--gradient--luminous-dusk:linear-gradient(135deg,#ffcb70 0%,#c751c0 50%,#4158d0 100%);--wp--preset--gradient--pale-ocean:linear-gradient(135deg,#fff5cb 0%,#b6e3d4 50%,#33a7b5 100%);--wp--preset--gradient--electric-grass:linear-gradient(135deg,#caf880 0%,#71ce7e 100%);--wp--preset--gradient--midnight:linear-gradient(135deg,#020381 0%,#2874fc 100%);--wp--preset--duotone--dark-grayscale:url('#wp-duotone-dark-grayscale');--wp--preset--duotone--grayscale:url('#wp-duotone-grayscale');--wp--preset--duotone--purple-yellow:url('#wp-duotone-purple-yellow');--wp--preset--duotone--blue-red:url('#wp-duotone-blue-red');--wp--preset--duotone--midnight:url('#wp-duotone-midnight');--wp--preset--duotone--magenta-yellow:url('#wp-duotone-magenta-yellow');--wp--preset--duotone--purple-green:url('#wp-duotone-purple-green');--wp--preset--duotone--blue-orange:url('#wp-duotone-blue-orange');--wp--preset--font-size--small:13px;--wp--preset--font-size--medium:20px;--wp--preset--font-size--large:36px;--wp--preset--font-size--x-large:42px}.has-black-color{color:var(--wp--preset--color--black) !important}.has-cyan-bluish-gray-color{color:var(--wp--preset--color--cyan-bluish-gray) !important}.has-white-color{color:var(--wp--preset--color--white) !important}.has-pale-pink-color{color:var(--wp--preset--color--pale-pink) !important}.has-vivid-red-color{color:var(--wp--preset--color--vivid-red) !important}.has-luminous-vivid-orange-color{color:var(--wp--preset--color--luminous-vivid-orange) !important}.has-luminous-vivid-amber-color{color:var(--wp--preset--color--luminous-vivid-amber) !important}.has-light-green-cyan-color{color:var(--wp--preset--color--light-green-cyan) !important}.has-vivid-green-cyan-color{color:var(--wp--preset--color--vivid-green-cyan) !important}.has-pale-cyan-blue-color{color:var(--wp--preset--color--pale-cyan-blue) !important}.has-vivid-cyan-blue-color{color:var(--wp--preset--color--vivid-cyan-blue) !important}.has-vivid-purple-color{color:var(--wp--preset--color--vivid-purple) !important}.has-black-background-color{background-color:var(--wp--preset--color--black) !important}.has-cyan-bluish-gray-background-color{background-color:var(--wp--preset--color--cyan-bluish-gray) !important}.has-white-background-color{background-color:var(--wp--preset--color--white) !important}.has-pale-pink-background-color{background-color:var(--wp--preset--color--pale-pink) !important}.has-vivid-red-background-color{background-color:var(--wp--preset--color--vivid-red) !important}.has-luminous-vivid-orange-background-color{background-color:var(--wp--preset--color--luminous-vivid-orange) !important}.has-luminous-vivid-amber-background-color{background-color:var(--wp--preset--color--luminous-vivid-amber) !important}.has-light-green-cyan-background-color{background-color:var(--wp--preset--color--light-green-cyan) !important}.has-vivid-green-cyan-background-color{background-color:var(--wp--preset--color--vivid-green-cyan) !important}.has-pale-cyan-blue-background-color{background-color:var(--wp--preset--color--pale-cyan-blue) !important}.has-vivid-cyan-blue-background-color{background-color:var(--wp--preset--color--vivid-cyan-blue) !important}.has-vivid-purple-background-color{background-color:var(--wp--preset--color--vivid-purple) !important}.has-black-border-color{border-color:var(--wp--preset--color--black) !important}.has-cyan-bluish-gray-border-color{border-color:var(--wp--preset--color--cyan-bluish-gray) !important}.has-white-border-color{border-color:var(--wp--preset--color--white) !important}.has-pale-pink-border-color{border-color:var(--wp--preset--color--pale-pink) !important}.has-vivid-red-border-color{border-color:var(--wp--preset--color--vivid-red) !important}.has-luminous-vivid-orange-border-color{border-color:var(--wp--preset--color--luminous-vivid-orange) !important}.has-luminous-vivid-amber-border-color{border-color:var(--wp--preset--color--luminous-vivid-amber) !important}.has-light-green-cyan-border-color{border-color:var(--wp--preset--color--light-green-cyan) !important}.has-vivid-green-cyan-border-color{border-color:var(--wp--preset--color--vivid-green-cyan) !important}.has-pale-cyan-blue-border-color{border-color:var(--wp--preset--color--pale-cyan-blue) !important}.has-vivid-cyan-blue-border-color{border-color:var(--wp--preset--color--vivid-cyan-blue) !important}.has-vivid-purple-border-color{border-color:var(--wp--preset--color--vivid-purple) !important}.has-vivid-cyan-blue-to-vivid-purple-gradient-background{background:var(--wp--preset--gradient--vivid-cyan-blue-to-vivid-purple) !important}.has-light-green-cyan-to-vivid-green-cyan-gradient-background{background:var(--wp--preset--gradient--light-green-cyan-to-vivid-green-cyan) !important}.has-luminous-vivid-amber-to-luminous-vivid-orange-gradient-background{background:var(--wp--preset--gradient--luminous-vivid-amber-to-luminous-vivid-orange) !important}.has-luminous-vivid-orange-to-vivid-red-gradient-background{background:var(--wp--preset--gradient--luminous-vivid-orange-to-vivid-red) !important}.has-very-light-gray-to-cyan-bluish-gray-gradient-background{background:var(--wp--preset--gradient--very-light-gray-to-cyan-bluish-gray) !important}.has-cool-to-warm-spectrum-gradient-background{background:var(--wp--preset--gradient--cool-to-warm-spectrum) !important}.has-blush-light-purple-gradient-background{background:var(--wp--preset--gradient--blush-light-purple) !important}.has-blush-bordeaux-gradient-background{background:var(--wp--preset--gradient--blush-bordeaux) !important}.has-luminous-dusk-gradient-background{background:var(--wp--preset--gradient--luminous-dusk) !important}.has-pale-ocean-gradient-background{background:var(--wp--preset--gradient--pale-ocean) !important}.has-electric-grass-gradient-background{background:var(--wp--preset--gradient--electric-grass) !important}.has-midnight-gradient-background{background:var(--wp--preset--gradient--midnight) !important}.has-small-font-size{font-size:var(--wp--preset--font-size--small) !important}.has-medium-font-size{font-size:var(--wp--preset--font-size--medium) !important}.has-large-font-size{font-size:var(--wp--preset--font-size--large) !important}.has-x-large-font-size{font-size:var(--wp--preset--font-size--x-large) !important} .kc-us-link{color:#5850ec}.kc-flex{display:flex}.kc-us-link-icon{width:2.5rem;color:#5850ec;height:1.5rem;cursor:pointer}.kc-us-link-create-icon{width:2.5rem;color:#000;height:1.5rem;cursor:pointer}.kc-us-qr-code .qr{margin-left:auto;margin-right:auto;font-size:1px;width:50%}#generate-short-link,#generated-short-link{text-align:center}#generate-short-link #kc-us-target-url,#generate-short-link #kc-us-short-url{width:60%;display:inline;border:1px solid grey;border-radius:50px 0 0 50px;background-color:#fff;margin:0;font-size:16px}#generate-short-link #kc-us-submit-btn,#generate-short-link #kc-us-copy-btn{border:1px solid grey;display:inline;padding:15px;background-color:#4662fa;color:#fff;border-radius:0 50px 50px 0;margin:-5px;width:150px;font-size:16px}.kc-us-tooltip{position:relative;display:inline-block}.kc-us-tooltip .kc-us-tooltiptext{visibility:hidden;width:140px;background-color:#555;color:#fff;text-align:center;border-radius:6px;padding:5px;position:absolute;z-index:1;bottom:150%;left:50%;margin-left:-75px;opacity:0;transition:opacity .3s}.kc-us-tooltip .kc-us-tooltiptext:after{content:"";position:absolute;top:100%;left:50%;margin-left:-5px;border-width:5px;border-style:solid;border-color:#555 transparent transparent}.kc-us-tooltip:hover .kc-us-tooltiptext{visibility:visible;opacity:1} /*! Swipebox v1.5.2 | Constantin Saguin csag.co | MIT License | github.com/brutaldesign/swipebox */ html.swipebox-html.swipebox-touch{overflow:hidden!important}#swipebox-overlay img{border:none!important}#swipebox-overlay{width:100%;height:100%;position:fixed;top:0;left:0;z-index:99999!important;overflow:hidden;-webkit-user-select:none;-moz-user-select:none;-ms-user-select:none;user-select:none}.admin-bar #swipebox-overlay{top: 32px;}.admin-bar #swipebox-container {bottom: 32px;}#swipebox-container{position:relative;width:100%;height:100%}#swipebox-slider{-webkit-transition:-webkit-transform 0.4s ease;transition:transform 0.4s ease;height:100%;left:0;top:0;width:100%;white-space:nowrap;position:absolute;display:none;cursor:pointer}#swipebox-slider .slide{height:100%;width:100%;line-height:1px;text-align:center;display:inline-block}#swipebox-slider .slide:before{content:"";display:inline-block;height:50%;width:1px;margin-right:-1px}#swipebox-slider .slide img,#swipebox-slider .slide .swipebox-video-container,#swipebox-slider .slide .swipebox-inline-container{display:inline-block;max-height:100%;max-width:100%;margin:0;padding:0;width:auto;height:auto;vertical-align:middle}#swipebox-slider .slide .swipebox-video-container{background:none;max-width:1140px;max-height:100%;width:100%;padding:5%;-webkit-box-sizing:border-box;box-sizing:border-box}#swipebox-slider .slide .swipebox-video-container .swipebox-video{width:100%;height:0;padding-bottom:56.25%;overflow:hidden;position:relative}#swipebox-slider .slide .swipebox-video-container .swipebox-video iframe{width:100%!important;height:100%!important;position:absolute;top:0;left:0}#swipebox-slider .slide-loading{background:url(//www.lamons.com/wp-content/plugins/responsive-lightbox/assets/swipebox/img/loader.gif) no-repeat center center}#swipebox-bottom-bar,#swipebox-top-bar{-webkit-transition:0.5s;transition:0.5s;position:absolute;left:0;z-index:999;height:50px;width:100%}#swipebox-bottom-bar{bottom:-50px}#swipebox-bottom-bar.visible-bars{-webkit-transform:translate3d(0,-50px,0);transform:translate3d(0,-50px,0)}#swipebox-top-bar{top:-50px}#swipebox-top-bar.visible-bars{-webkit-transform:translate3d(0,50px,0);transform:translate3d(0,50px,0)}#swipebox-title{display:block;width:100%;text-align:center}#swipebox-prev,#swipebox-next,#swipebox-close{background-image:url(//www.lamons.com/wp-content/plugins/responsive-lightbox/assets/swipebox/img/icons.png);background-repeat:no-repeat;border:none!important;text-decoration:none!important;cursor:pointer;width:50px;height:50px;top:0}#swipebox-arrows{display:block;margin:0 auto;width:100%;height:50px}#swipebox-prev{background-position:-32px 13px;float:left}#swipebox-next{background-position:-78px 13px;float:right}#swipebox-close{top:0;right:0;position:absolute;z-index:9999;background-position:15px 12px}.swipebox-no-close-button #swipebox-close{display:none}#swipebox-prev.disabled,#swipebox-next.disabled{opacity:.3}.swipebox-no-touch #swipebox-overlay.rightSpring #swipebox-slider{-webkit-animation:rightSpring 0.3s;animation:rightSpring 0.3s}.swipebox-no-touch #swipebox-overlay.leftSpring #swipebox-slider{-webkit-animation:leftSpring 0.3s;animation:leftSpring 0.3s}.swipebox-touch #swipebox-container:before,.swipebox-touch #swipebox-container:after{-webkit-backface-visibility:hidden;backface-visibility:hidden;-webkit-transition:all .3s ease;transition:all .3s ease;content:' ';position:absolute;z-index:999;top:0;height:100%;width:20px;opacity:0}.swipebox-touch #swipebox-container:before{left:0;-webkit-box-shadow:inset 10px 0 10px -8px #656565;box-shadow:inset 10px 0 10px -8px #656565}.swipebox-touch #swipebox-container:after{right:0;-webkit-box-shadow:inset -10px 0 10px -8px #656565;box-shadow:inset -10px 0 10px -8px #656565}.swipebox-touch #swipebox-overlay.leftSpringTouch #swipebox-container:before{opacity:1}.swipebox-touch #swipebox-overlay.rightSpringTouch #swipebox-container:after{opacity:1}@-webkit-keyframes rightSpring{0%{left:0}50%{left:-30px}100%{left:0}}@keyframes rightSpring{0%{left:0}50%{left:-30px}100%{left:0}}@-webkit-keyframes leftSpring{0%{left:0}50%{left:30px}100%{left:0}}@keyframes leftSpring{0%{left:0}50%{left:30px}100%{left:0}}@media screen and (min-width:800px){#swipebox-close{right:10px}#swipebox-arrows{width:92%;max-width:800px}}#swipebox-overlay{background:#0d0d0d}#swipebox-bottom-bar,#swipebox-top-bar{text-shadow:1px 1px 1px black;background:#000;opacity:.95}#swipebox-top-bar{color:white!important;font-size:15px;line-height:43px;font-family:Helvetica,Arial,sans-serif} body .wp-show-posts a{box-shadow:0 0 0 transparent}.wp-show-posts-entry-title a{text-decoration:none}a.wp-show-posts-read-more,a.wp-show-posts-read-more:visited{display:inline-block;padding:8px 15px;border:2px solid #222;color:#222;font-size:.8em;text-decoration:none}.wpsp-read-more{margin:0 0 1em;display:inline-block}a.wp-show-posts-read-more:focus,a.wp-show-posts-read-more:hover{border:2px solid transparent;color:#fff;background:#222;text-decoration:none}.wp-show-posts-image{margin-bottom:1em}.wp-show-posts-image.wpsp-image-left{float:left;margin-right:1.5em}.wp-show-posts-image.wpsp-image-right{float:right;margin-left:1.5em}.wp-show-posts-image.wpsp-image-center{display:block;text-align:center}.wp-show-posts-image img{margin:0!important;vertical-align:bottom;height:auto}.wp-show-posts-entry-header{margin:0 0 1em;padding:0}.wp-show-posts .wp-show-posts-entry-title{margin:0}.wp-show-posts-updated{display:none}.wp-show-posts-entry-content,.wp-show-posts-entry-summary{margin-bottom:1em}.wp-show-posts-entry-meta{font-size:.8em}.wp-show-posts-separator{opacity:.5}.wp-show-posts-meta a,.wp-show-posts-meta a:visited{color:rgba(0,0,0,.5)}.stack-wp-show-posts-byline,.stack-wp-show-posts-posted-on{display:block}.wp-show-posts-entry-meta-below-post{margin-bottom:1em}.wp-show-posts-columns:not(.wp-show-posts-masonry){display:flex;flex-wrap:wrap}.wp-show-posts-columns .wp-show-posts-single:not(.wp-show-posts-masonry-block){display:flex;flex-direction:row}.wp-show-posts-columns .wp-show-posts-single:not(.wp-show-posts-masonry-block) .wp-show-posts-image img{flex:0 0 auto;object-fit:scale-down}.wpsp-clear{clear:both;display:block;overflow:hidden;visibility:hidden;width:0;height:0}.wp-show-posts:not(.wp-show-posts-columns) .wp-show-posts-single:not(:last-child){margin-bottom:2em}.wpsp-load-more{margin-top:2em}.wp-show-posts-columns .wp-show-posts-inner{flex:1}.wp-show-posts-inner:after{clear:both;display:table;content:'';width:0;height:0;overflow:hidden;visibility:hidden}.wp-show-posts-single.post{margin-bottom:0}@media (min-width:768px){.wpsp-col-1,.wpsp-col-10,.wpsp-col-11,.wpsp-col-12,.wpsp-col-2,.wpsp-col-20,.wpsp-col-3,.wpsp-col-4,.wpsp-col-5,.wpsp-col-6,.wpsp-col-7,.wpsp-col-8,.wpsp-col-9{float:left}.wpsp-col-1{width:8.333333%}.wpsp-col-2{width:16.666667%}.wpsp-col-3{width:25%}.wpsp-col-4{width:33.333%}.wpsp-col-5{width:41.666667%}.wpsp-col-6{width:50%}.wpsp-col-7{width:58.333333%}.wpsp-col-8{width:66.666667%}.wpsp-col-9{width:75%}.wpsp-col-10{width:83.333333%}.wpsp-col-11{width:91.666667%}.wpsp-col-12{width:100%}.wpsp-col-20{width:20%}}@media (max-width:767px){.wp-show-posts-columns,.wp-show-posts-inner{margin-left:0!important;margin-right:0!important}.wp-show-posts-columns .wp-show-posts-single{display:block;width:100%}.wp-show-posts-image.wpsp-image-left,.wp-show-posts-image.wpsp-image-right{float:none;margin-right:0;margin-left:0}}.wp-show-posts-inner :last-child{margin-bottom:0}.screen-reader-text{clip:rect(1px,1px,1px,1px);position:absolute!important}.screen-reader-text:active,.screen-reader-text:focus,.screen-reader-text:hover{background-color:#f1f1f1;border-radius:3px;box-shadow:0 0 2px 2px rgba(0,0,0,.6);clip:auto!important;color:#21759b;display:block;font-size:14px;font-weight:700;height:auto;left:5px;line-height:normal;padding:15px 23px 14px;text-decoration:none;top:5px;width:auto;z-index:100000}.wpsp-clearfix:after{content:".";display:block;overflow:hidden;visibility:hidden;font-size:0;line-height:0;width:0;height:0} @font-face{font-family:'Wrightroman';src:url(//www.lamons.com/wp-content/themes/lamons/css/../fonts/wrightroman-light.otf);font-weight:400;font-display:swap}@font-face{font-family:'Wrightroman';src:url(//www.lamons.com/wp-content/themes/lamons/css/../fonts/wrightroman-bold.otf);font-weight:700;font-display:swap} .slick-slider{position:relative;display:block;box-sizing:border-box;-webkit-user-select:none;-moz-user-select:none;-ms-user-select:none;user-select:none;-webkit-touch-callout:none;-khtml-user-select:none;-ms-touch-action:pan-y;touch-action:pan-y;-webkit-tap-highlight-color:transparent}.slick-list{position:relative;display:block;overflow:hidden;margin:0;padding:0 !important}.slick-list:focus{outline:none}.slick-list.dragging{cursor:pointer;cursor:hand}.slick-slider .slick-track,.slick-slider .slick-list{-webkit-transform:translate3d(0,0,0);-moz-transform:translate3d(0,0,0);-ms-transform:translate3d(0,0,0);-o-transform:translate3d(0,0,0);transform:translate3d(0,0,0)}.slick-track{position:relative;top:0;left:0;display:block;margin-left:auto;margin-right:auto}.slick-track:before,.slick-track:after{display:table;content:''}.slick-track:after{clear:both}.slick-loading .slick-track{visibility:hidden}.slick-slide{display:none;float:left;height:100%;min-height:1px}[dir=rtl] .slick-slide{float:right}.slick-slide img{display:block}.slick-slide.slick-loading img{display:none}.slick-slide.dragging img{pointer-events:none}.slick-initialized .slick-slide{display:block}.slick-loading .slick-slide{visibility:hidden}.slick-vertical .slick-slide{display:block;height:auto;border:1px solid transparent}.slick-arrow.slick-hidden{display:none} :root{--color-red:#862633;--color-dark-blue:#002b49;--color-light-beige:rgba(214,210,196,.25);--color-dark-beige:#c6aa5d;--color-light-blue:#006298;--color-menu-bg:rgba(234,232,225,1);--side-padding:7vw;--color-50-beige:rgba(214,210,196,.25)}*{margin:0;padding:0}.full-width-img{padding:0 !important;margin:0}.full-width-img figure{width:100%}#not-logged-in-logo{position:fixed;top:50%;left:50%;transform:translate3d(-50%,-50%,0);width:90vw;max-width:500px}body{font-family:'Wrightroman',"Helvetica",system-ui,-apple-system,BlinkMacSystemFont,"Oxygen","Ubuntu","Cantarell","Fira Sans","Droid Sans","Helvetica Neue",sans-serif}img{width:100%;max-width:100%;height:auto}.center-me{text-align:center;margin-left:auto !important;margin-right:auto !important}#test-container{padding:5vw}#page-container{position:relative;z-index:1;overflow:hidden;max-width:100%}#page-container>*{padding-left:var(--side-padding);padding-right:var(--side-padding);box-sizing:border-box;max-width:100%}#page-container>*:not(div),.max-width-block__interior>*:not(div){margin-bottom:30px}.wp-block-columns.margin-up-35{margin-top:-35px}#page-container h1{font-size:calc(32px + 2.5vw);text-transform:uppercase;color:var(--color-dark-blue);font-weight:700;line-height:53px;margin-bottom:33px}body.error404 #page-container h1#child-header-title{margin-top:80px;font-size:calc(14px + 1.25vw);line-height:1.4em}#page-container h2{font-size:32px;text-transform:uppercase;color:var(--color-dark-blue);font-weight:700;line-height:43px;margin-bottom:33px;letter-spacing:.2em}#page-container h3{font-size:22px;text-transform:uppercase;color:var(--color-dark-blue);font-weight:700;line-height:33px;margin-bottom:33px;letter-spacing:.2em;font-size:29px;font-style:normal;font-weight:400;line-height:1.45em;letter-spacing:0em;color:#006298;text-transform:none}#hero-caption{margin:20px 0;color:#fff;font-style:italic}.oxi-addons-container .oxi-image-hover:hover{-webkit-transform:scale(1.1);transform:scale(1.1)}.oxi-addons-container .oxi-image-hover-image img{height:auto !important;margin-top:0}.oxi-image-hover-figure-caption{visibility:visible}.hide-mobile{display:block}.height-0{height:0;margin:0 !important;padding:0 !important}.margin-0{margin:0 !important}.lamons-timeline-desktop{display:block}.carousel-slider-outer{display:none;padding-bottom:50px !important}.owl-stage{background-image:url('https://lamonsstaging.wpengine.com/wp-content/uploads/2022/06/Lamons-Timeline-Line-1.png');background-repeat:no-repeat;background-position:17px center;width:5360px}.carousel-slider.owl-drag .owl-item{max-width:none}#page-container .locations h3{font-size:29px;font-style:normal;font-weight:400;line-height:39px;letter-spacing:0em;text-align:left;color:#006298;text-transform:none;margin-bottom:25px}.sy-box{max-width:1195px !important;margin:0 auto !important}.sy-controls li a:focus,.sy-controls li a:hover{opacity:1 !important}.sy-pager li{width:13px !important;height:13px !important}.sy-pager li a:focus,.sy-pager li a:hover{background:rgba(0,43,73,1) !important;transform:scale(1.075) !important;opacity:1 !important}.sy-pager li.sy-active a{background:rgba(0,43,73,1) !important}.rl-gallery .rl-gallery-link .rl-gallery-caption{padding:2rem !important;text-align:center !important}.rl-gallery .rl-gallery-item-caption{font-size:18px !important;line-height:1.5rem !important}#page-container .contact-us h3{font-size:29px;font-style:normal;font-weight:400;line-height:39px;letter-spacing:0em;text-align:left;color:#006298;text-transform:none;margin-bottom:15px}.wp-block-embed__wrapper{position:relative;overflow:hidden;width:100%;margin-bottom:100px}.wp-block-embed__wrapper:after{display:block;content:"";padding-top:56.25%}.wp-block-embed__wrapper iframe{position:absolute;top:0;left:0;width:100%;height:100%}#max-width-block_61291c43794de{padding-top:100px;padding-bottom:100px}#max-width-block_61291c43794de .wp-block-columns{max-width:1000px;margin:0 auto}.ask-dale-shorts-logo{display:flex;max-width:300px;margin:0 auto}.form-section-archive{display:none}body.page-id-588 #max-width-block_6181890a0dc28{display:block}body.page-id-588 .mobile-buttons{display:none}body.page-id-1564 .same-width-buttons{margin:0 auto;max-width:555px}body.page-id-1564 .same-width-buttons .wp-block-button{width:100%}body.page-id-1564 .same-width-buttons .wp-block-button a{width:100%;padding:10px 33px;line-height:22px}#page-container h4{font-size:20px;text-transform:uppercase;color:var(--color-dark-blue);font-weight:700;line-height:30px;margin-bottom:33px;letter-spacing:.2em;font-size:17px;font-style:normal;font-weight:400;line-height:1.45em;letter-spacing:0em;text-align:left;color:#006298;margin-bottom:17px}#page-container h5{font-size:18px;text-transform:uppercase;color:var(--color-dark-blue);font-weight:700;line-height:28px;margin-bottom:33px;letter-spacing:.2em}#page-container h6{font-size:16px;text-transform:uppercase;color:var(--color-dark-blue);font-weight:700;line-height:22px;margin-bottom:33px;letter-spacing:.2em}#page-container .has-white-color{color:#fff !important}#page-container p{font-size:18px;line-height:1.5em}#page-container p.has-small-font-size{font-size:calc(18px - .25vw)}#page-container p.has-normal-font-size{font-size:18px}#page-container p.has-medium-font-size{font-size:calc(18px + .5vw)}#page-container p.has-medium-font-size{font-size:calc(18px + .5vw)}#page-container p.has-large-font-size{font-size:calc(18px + 1vw)}#page-container p.has-huge-font-size{font-size:calc(18px + 1.5vw)}#page-container p>a{color:var(--color-red);text-decoration:none}#page-container p>a:hover{color:#002b49}#page-container pre code{-moz-tab-size:4;tab-size:4;border:1px solid rgba(0,0,0,.1);padding:3vw;background:#fff}#page-container>ul,#page-container>ol{padding-left:calc(var(--side-padding) + 20px)}.max-width-block__interior>ul,.max-width-block__interior>ol{padding-left:20px}.cert-box-hidden{visibility:hidden}.by-three{max-width:700px;margin:0 auto}.color-50-beige{background:rgba(214,210,196,.25)}.show-icon-tablet{display:none}.hide-icon-tablet{display:block}.minus-220{margin-top:-220px;height:calc(120px + 20px)}.minus-320{margin-top:-320px;height:calc(120px + 100px)}.max-width-500{max-width:500px}.ecovadis-image{position:absolute;left:0;right:0;margin-top:-60px}.margin-auto-center{margin:0 auto}.plus-140{margin-top:140px}.margin-30-0{margin:30px 0}@media (prefers-reduced-motion:no-preference){.animate{transition:transform 1s ease-out,opacity .75s;transform:translate3d(0,20%,0);opacity:0}.animate.now{transform:translate3d(0,0,0);opacity:1}.wp-block-media-text__media{transition:transform 1s ease-out,opacity .75s;transform:translate3d(-20%,0,0);opacity:0}.has-media-on-the-right .wp-block-media-text__media{transform:translate3d(20%,0,0)}.wp-block-media-text__media.now{transform:translate3d(0,0,0);opacity:1}}#page-container .no-side-padding{padding-left:0;padding-right:0}@media only screen and (max-width:1150px){.animate{transform:translate3d(0,0,0);opacity:1}#page-container{padding-top:97px !important;margin-top:0 !important}#page-container>br:first-child{display:none}#page-container h2{font-size:25px;margin-bottom:22px}}@media only screen and (max-width:781px){.cert-box-hidden{display:none}.hide-mobile{display:block}.wp-block-column:not(:first-child){margin:0 !important}.lamons-timeline-desktop{display:none}.carousel-slider-outer{display:block}}@media only screen and (max-width:700px){.oxi-image-hover-figure-caption{visibility:hidden}.oxi-addons-container .oxi-image-hover:hover{-webkit-transform:scale(1);transform:scale(1)}}@media (min-width:600px) and (max-width:781px){.show-icon-tablet{display:block}.hide-icon-tablet{display:none}}@media only screen and (max-width:750px){body.page-id-588 #max-width-block_6181890a0dc28{display:none}body.page-id-588 .mobile-buttons{display:flex}body.page-id-588 .mobile-buttons .wp-block-button{width:80%}body.page-id-588 .mobile-buttons .wp-block-button a{width:100%}}@media only screen and (max-width:450px){.oxi-addons-container.noLightbox.oxi-image-hover-wrapper-1{max-height:300px}}@media only screen and (max-width:400px){.carousel-slider.owl-drag .owl-item{max-width:200px}.carousel-slider.owl-drag .owl-item:nth-child(16){margin-right:0 !important}.owl-stage{width:3725px !important}}@media only screen and (max-width:350px){.oxi-addons-container.noLightbox.oxi-image-hover-wrapper-1{max-height:250px}.oxi-addons-container .oxi-image-hover-image img{height:auto !important;margin-top:10px}} .wp-block-ub-tabbed-content-tabs-content .max-width-block__interior{margin:0}#page-container .wp-block-separator:not(.is-style-wide){width:70px;margin:0 auto;height:2px}#page-container .wp-block-separator.is-style-wide{border:none;height:1px}.wp-block-button__link{background-color:#862633;border-radius:0}#page-container .wp-block-quote{border-left:5px solid var(--color-dark-blue);padding:20px 20px 20px 40px}#page-container .wp-block-quote cite{margin-top:20px;display:block;opacity:.6;font-size:16px}.blocks-gallery-item__caption a{color:#fff;text-decoration:none}.home-boxes .wp-block-column{box-shadow:0 0 12px rgba(0,0,0,.09);padding:4vw 5vw;border-top:9px solid #c6aa5d;background:rgba(255,255,255,.9)}#page-container .home-boxes .wp-block-column h3{margin-bottom:0}.cert-boxes .wp-block-column{box-shadow:0 0 12px rgba(0,0,0,.09);padding:40px;border-top:9px solid #c6aa5d;background:rgba(255,255,255,.9)}#page-container .cert-boxes .wp-block-column h3{margin-bottom:0;white-space:nowrap;overflow:hidden;text-overflow:ellipsis}#page-container .cert-boxes .wp-block-column a{text-decoration:none;color:inherit}.clients .wp-block-image{text-align:center;height:60px;margin-bottom:60px;line-height:60px}.clients .wp-block-image img{max-width:120px;max-height:60px;width:auto;height:auto;text-align:center;vertical-align:middle}.callout-block{transform:translate3d(0,-200px,0);margin-top:200px;margin-bottom:-200px;background:#fff;border-bottom:9px solid rgba(198,170,93,1);box-shadow:0px 0px 12px rgba(0,0,0,.09)}.callout-block p{padding:0 10vw}#page-container .stand-out-block{background:#fff;border-bottom:9px solid rgba(198,170,93,1);box-shadow:0px 0px 12px rgba(0,0,0,.09);max-width:1200px;position:relative;z-index:2;padding:0 8vw;margin:0 auto;width:100%;box-sizing:border-box}.minus-120{margin-top:-120px;height:calc(120px + 20px)}.icon-grid .wp-block-column img{max-width:225px;display:block;margin:0 auto;width:100%;transition:transform .3s}.icon-grid .wp-block-column a:hover img{transform:scale(1.1)}.icon-grid figcaption a{font-size:17px;font-style:normal;font-weight:400;line-height:25px;letter-spacing:0em;text-align:center;text-transform:uppercase;margin-top:15px;text-decoration:none;color:inherit;display:block}.icon-grid.values-grid .wp-block-column img{max-width:66px;display:block;margin:0 auto;width:100%;transition:transform .3s}.icon-grid.values-grid .wp-block-column:hover img{transform:scale(1.1)}#page-container .icon-grid.values-grid .wp-block-column h3{color:#006298;text-transform:none;font-weight:400;font-size:29px;line-height:39px;margin-bottom:20px;letter-spacing:.05em}#page-container .values-grid p{display:block;height:calc(1.5em*4)}.wp-block-media-text .wp-block-media-text__media{position:relative}.blue-img-overlay .wp-block-media-text .wp-block-media-text__media:after{content:'';display:block;position:absolute;top:0;left:0;width:100%;height:100%;z-index:1;background:rgba(0,43,73,.44)}.wp-block-media-text .wp-block-media-text__content{padding:6vw 8vw;background:rgba(255,255,255,.9)}.wp-block-columns:not(.contact-us):not(.home-boxes):not(.icon-grid):not(.category-grid) .wp-block-column:not(:first-child){margin-left:20px}.wp-block-columns.contact-us:not(.home-boxes):not(.icon-grid) .wp-block-column:not(:first-child){margin-left:120px}.wp-block-column .wp-block-image figcaption{font-size:17px;font-style:normal;font-weight:400;line-height:25px;letter-spacing:0em;text-align:center;margin-top:15px;margin-bottom:0;text-transform:uppercase}.wp-block-column .wp-block-image figcaption a{text-decoration:none;color:inherit}.category-grid .wp-block-image{border-radius:10px;overflow:hidden;box-shadow:0px 0px 12px rgba(0,0,0,.09)}.category-grid .wp-block-image>a{display:block;height:0;padding-bottom:75%;position:relative;overflow:hidden}.category-grid .wp-block-image>a:before{content:'';display:block;position:absolute;top:0;left:0;width:100%;height:100%;background:rgba(0,43,73,.1);z-index:10}.category-grid .wp-block-image>a>img{position:absolute;top:0;left:0;width:100%;height:100%;object-fit:cover;background:#e5eaed;transition:transform 1s}.category-grid .wp-block-image:hover>a>img{transform:scale(1.1);transition:transform 2s}.category-grid .wp-block-column .wp-block-image figcaption{font-size:17px;font-style:normal;font-weight:400;line-height:1.45em;letter-spacing:0em;text-align:left;margin-bottom:0;text-transform:uppercase;background:#fff;margin:0}.category-grid .wp-block-column .wp-block-image figcaption a{padding:30px 45px 30px 22px;display:block;background-image:url(//www.lamons.com/wp-content/themes/lamons/css/../images/blue-bullet-arrow.svg);background-repeat:no-repeat;background-position:calc(100% - 18px) center;background-size:18px}#page-container .wp-block-columns.gold-white-blocks .wp-block-column:not(:first-child){margin-left:80px}#page-container .wp-block-columns.gold-white-blocks .wp-block-column{background:#fff;border-top:10px solid #c6aa5d;box-shadow:0px 0px 12px rgba(0,0,0,.09);padding:40px 38px 50px}#page-container .wp-block-columns.gold-white-blocks .wp-block-column h3{font-size:29px;font-style:normal;font-weight:400;line-height:39px;letter-spacing:0em;text-align:center;text-transform:none;color:#006298}#page-container .leadership-team .wp-block-column>.wp-block-group{margin-bottom:100px}#page-container .leadership-team figure{width:100%;max-width:240px}#page-container .leadership-team figure>a{height:0;padding-bottom:100%;display:block;position:relative}#page-container .leadership-team figure>a:after{transition:opacity .3s;opacity:0;content:'';background-color:#728797;background-image:url(//www.lamons.com/wp-content/themes/lamons/css/../images/about-hover.svg);background-position:center;background-repeat:no-repeat;background-size:35%;position:absolute;top:0;left:0;width:100%;height:100%;z-index:10;border-radius:50%}#page-container .leadership-team figure>a:hover:after{opacity:1}#page-container .leadership-team a>img{width:100%;height:100%;border-radius:50% !important;display:block;object-fit:cover;position:absolute;top:0;left:0}#page-container .leadership-team figure>img{border-radius:50% !important;object-fit:cover;height:240px}#page-container .leadership-team p{margin-top:30px;margin-bottom:17px}#page-container .leadership-team p a{text-decoration:none;color:inherit}#page-container .leadership-team h3{text-transform:none;color:#006298;font-weight:400;font-size:29px;line-height:39px;letter-spacing:0}.leadership-team h3 a{text-decoration:none;color:inherit}#page-container .team-member .wp-block-media-text{display:block}#page-container .team-member .wp-block-media-text__media{width:350px;max-width:100%;align-self:auto;height:0;overflow:hidden;padding-bottom:350px;position:relative;display:inline-block}#page-container .team-member .wp-block-media-text__media img{position:absolute;top:0;left:0;width:100%;height:100%;object-fit:cover;border-radius:50%}#page-container .team-member .wp-block-media-text__content{padding:0;width:calc(100% - 350px - 87px);display:inline-block;vertical-align:top;margin-left:87px}#page-container .team-member .wp-block-media-text__content p:first-child{font-size:17px;margin-bottom:10px}#page-container .team-member .wp-block-media-text__content h3{font-size:29px;font-style:normal;font-weight:400;line-height:39px;letter-spacing:0em;color:#006298;text-transform:none}.wp-block-table{position:relative;padding:45px 0 0;background:#fff;border:none;max-width:750px;margin:0 auto;font-size:16px}#page-container>.wp-block-table{margin-left:var(--side-padding);margin-right:var(--side-padding)}.wp-block-table table{border-collapse:collapse;table-layout:fixed}.wp-block-table thead{background:#f17b26;color:#fff;text-align:left}.wp-block-table tbody tr:nth-child(2n+1){background-color:#f9f9f9}.wp-block-table th,.wp-block-table td{padding:12px 16px;border:1px solid rgba(0,0,0,.08) !important;line-height:1.25em}.wp-block-table sub{font-size:11px}.wp-block-table figcaption{position:absolute;top:0;display:block;text-align:center;left:0;line-height:45px;min-width:calc(100% - 40px);background:#777;color:#fff;font-weight:600;text-transform:capitalize;white-space:nowrap;padding:0 20px}@media only screen and (max-width:760px),(min-device-width:768px) and (max-device-width:1024px){body:not(.page-template-careers-page) .wp-block-table tr{border:1px solid #ccc}body:not(.page-template-careers-page) .wp-block-table td{border:none;border-bottom:1px solid #eee;position:relative}body:not(.page-template-careers-page) td:before{position:absolute;top:6px;left:6px;width:45%;padding-right:10px;white-space:nowrap}}@media only screen and (max-width:1370px){.category-grid .wp-block-column .wp-block-image figcaption a{padding:25px 40px 25px 20px;font-size:15px}}@media only screen and (max-width:1150px){.wp-block-column{margin-top:30px}.wp-block-column:first-child{margin-top:45}.home-boxes .wp-block-column{text-align:center;padding:10vw 6vw;margin-top:36px;margin-top:0}.home-boxes .wp-block-column:first-child{margin-top:0}.wp-block-media-text{overflow:hidden}.wp-block-media-text .wp-block-media-text__content{padding:11vw 7vw;text-align:center}.wp-block-media-text .wp-block-media-text__content .max-width-block.has-text-align-left{text-align:center}.wp-block-media-text .wp-block-media-text__content .max-width-block.has-text-align-left .max-width-block__interior{max-width:100% !important}.wp-block-media-text .wp-block-media-text__content .wp-block-buttons>.wp-block-button{margin:0 auto}#page-container .team-member .wp-block-media-text__media{display:block;margin:0 auto 50px}#page-container .team-member .wp-block-media-text__content{display:block;margin:0 auto;width:100%;max-width:600px}#page-container .stand-out-block{max-width:calc(100% - 60px)}#page-container .wp-block-spacer{max-height:105px}#page-container .wp-block-spacer[style="height:132px"],#page-container .wp-block-spacer[style="height:131px"],#page-container .wp-block-spacer[style="height:130px"],#page-container .wp-block-spacer[style="height:129px"],#page-container .wp-block-spacer[style="height:128px"]{max-height:85px}#page-container .wp-block-spacer[style="height:122px"],#page-container .wp-block-spacer[style="height:121px"],#page-container .wp-block-spacer[style="height:120px"],#page-container .wp-block-spacer[style="height:119px"],#page-container .wp-block-spacer[style="height:118px"]{max-height:76px}#page-container .wp-block-spacer[style="height:112px"],#page-container .wp-block-spacer[style="height:111px"],#page-container .wp-block-spacer[style="height:110px"],#page-container .wp-block-spacer[style="height:109px"],#page-container .wp-block-spacer[style="height:108px"]{max-height:66px}#page-container .wp-block-spacer[style="height:107px"],#page-container .wp-block-spacer[style="height:106px"],#page-container .wp-block-spacer[style="height:105px"],#page-container .wp-block-spacer[style="height:104px"],#page-container .wp-block-spacer[style="height:103px"],#page-container .wp-block-spacer[style="height:102px"],#page-container .wp-block-spacer[style="height:101px"],#page-container .wp-block-spacer[style="height:100px"],#page-container .wp-block-spacer[style="height:99px"],#page-container .wp-block-spacer[style="height:98px"]{max-height:62px}#page-container .wp-block-spacer[style="height:97px"],#page-container .wp-block-spacer[style="height:96px"],#page-container .wp-block-spacer[style="height:95px"],#page-container .wp-block-spacer[style="height:94px"],#page-container .wp-block-spacer[style="height:93px"]{max-height:50px}#page-container .wp-block-spacer[style="height:92px"],#page-container .wp-block-spacer[style="height:91px"],#page-container .wp-block-spacer[style="height:90px"],#page-container .wp-block-spacer[style="height:89px"],#page-container .wp-block-spacer[style="height:88px"]{max-height:45px}#page-container .wp-block-spacer[style="height:87px"],#page-container .wp-block-spacer[style="height:86px"],#page-container .wp-block-spacer[style="height:85px"],#page-container .wp-block-spacer[style="height:84px"]{max-height:45px}#page-container .wp-block-spacer[style="height:71px"],#page-container .wp-block-spacer[style="height:70px"],#page-container .wp-block-spacer[style="height:68px"]{max-height:40px}#page-container .wp-block-spacer[style="height:67px"],#page-container .wp-block-spacer[style="height:66px"],#page-container .wp-block-spacer[style="height:65px"],#page-container .wp-block-spacer[style="height:64px"],#page-container .wp-block-spacer[style="height:63px"]{max-height:40px}#page-container .wp-block-spacer[style="height:62px"],#page-container .wp-block-spacer[style="height:61px"],#page-container .wp-block-spacer[style="height:60px"],#page-container .wp-block-spacer[style="height:59px"],#page-container .wp-block-spacer[style="height:58px"]{max-height:35px}#page-container .wp-block-spacer[style="height:32px"],#page-container .wp-block-spacer[style="height:31px"],#page-container .wp-block-spacer[style="height:30px"],#page-container .wp-block-spacer[style="height:29px"],#page-container .wp-block-spacer[style="height:28px"]{max-height:20px}#page-container h1#child-header-title+.wp-block-spacer{max-height:0}}@media only screen and (max-width:1050px){:root{--side-padding:30px}.category-grid .wp-block-spacer{height:var(--side-padding) !important}}@media only screen and (max-width:781px){.wp-block-column:nth-child(2n+1){margin-left:0 !important}.cert-boxes .wp-block-column{margin-left:auto !important;margin-right:auto !important}.cert-boxes+.wp-block-spacer{height:0 !important}.gold-white-blocks .wp-block-column{margin:20px auto !important}.home-boxes .wp-block-column{margin-left:auto !important;margin-right:auto !important;margin-top:36px}}@media only screen and (max-width:750px){.wp-block-column:not(:only-child){flex-basis:100% !important}.category-grid .wp-block-spacer{height:0 !important}}@media only screen and (max-width:420px){#page-container .team-member .wp-block-media-text__media{width:270px;padding-bottom:270px}} .wp-block-ub-tabbed-content-tab-title-wrap{color:#000;text-decoration:none;display:inline-block;font-size:17px;font-style:normal;font-weight:400;letter-spacing:.18em;text-align:center !important;position:relative;line-height:1.45em;border-bottom:5px solid transparent !important;padding:10px 40px;white-space:nowrap;outline:none;border-width:0 0 5px !important;border-top-right-radius:0;border-top-left-radius:0;margin-right:0;cursor:pointer;background:0 0 !important}.wp-block-ub-tabbed-content-holder .wp-block-ub-tabbed-content-holder .wp-block-ub-tabbed-content-tab-title-wrap{letter-spacing:0}.wp-block-ub-tabbed-content-tab-title-wrap:before{content:'';display:block;position:absolute;right:100%;top:50%;transform:translate3d(0,-50%,0);background:#002b49;width:1px;height:19px}.wp-block-ub-tabbed-content-tab-title-wrap:first-child:before{display:none}.wp-block-ub-tabbed-content-tab-title-wrap.active{color:rgba(0,98,152,1) !important;font-weight:700;border-bottom-color:rgba(0,98,152,1) !important}.wp-block-ub-tabbed-content-holder .wp-block-ub-tabbed-content-holder .wp-block-ub-tabbed-content-tab-title-wrap.active{color:#862633 !important;border:none !important;font-weight:400}.wp-block-ub-tabbed-content-tabs-content{border-bottom:7px solid #c6aa5d !important;border-width:0 0 7px !important;background:#fff;box-shadow:0px 0px 12px rgba(0,0,0,.09);padding:45px;font-size:18px;box-sizing:border-box}.max-width-block.locations .wp-block-ub-tabbed-content-tabs-content{border-bottom:none;background:0 0;box-shadow:none;padding:0;font-size:18px}.wp-block-ub-tabbed-content-tabs-content .wp-block-ub-tabbed-content-tab-content-wrap>*{margin-top:20px}.wp-block-ub-tabbed-content-tabs-content .wp-block-ub-tabbed-content-tab-content-wrap>*:first-child{margin-top:0}.wp-block-ub-tabbed-content-tab-content-wrap p{font-size:18px;line-height:1.5em}.wp-block-ub-tabbed-content-tab-content-wrap>ul,.wp-block-ub-tabbed-content-tab-content-wrap>ol{padding-left:20px}.wp-block-ub-tabbed-content-tab-content-wrap>ul li{list-style:circle;margin-bottom:5px}@media only screen and (max-width:1050px){.wp-block-ub-tabbed-content-tabs-title{justify-content:unset !important}} .wp-block-columns{margin-bottom:0}.wp-block-column:not(:first-child){margin-left:55px}.wp-block-button{font-size:17px;font-style:normal;font-weight:400;line-height:17px;text-align:center}.wp-block-button__link{text-transform:uppercase;padding:0 33px;line-height:38px;font-size:17px;transition:color .3s,background .3s,transform .3s}.wp-block-button__link:hover{background:#002b49 !important;color:#fff !important;transform:scale(1.025)} #main-nav{padding:31.95px 30px;position:relative;z-index:10;background:#fff}#main-nav>a{display:inline-block}.menu-item a[href="#"]{cursor:default}.menu-item a[href="#"]:hover{background:0 0 !important;color:inherit !important}#main-nav .footer-only{display:none !important}#main-nav-home{display:inline-block;padding-right:10px;margin-top:3px}#main-nav-logo{display:block;width:215.3px}#anniversary-logo{position:absolute;max-width:72px;top:28px;padding:0 10px;border-left:1px solid #c4c4c4}#main-nav .menu-main-menu-container{display:inline-block;vertical-align:top;box-sizing:border-box;float:right;padding:0 50px 0 0}ul#menu-main-menu{list-style:none;display:inline-block;width:100%}ul#menu-main-menu>li{display:inline-block;position:relative;padding-left:40px;padding-top:7px;padding-bottom:7px}ul#menu-main-menu>li:first-child{padding-left:0}ul#menu-main-menu li.menu-cta{width:160px;text-align:center}ul#menu-main-menu>li>a{color:#000;text-decoration:none;font-size:18px;font-style:normal;font-weight:400;line-height:17px;display:block;padding:10px 15px;white-space:nowrap;overflow:hidden;text-overflow:ellipsis}ul#menu-main-menu li.menu-cta a{background:var(--color-red);color:#fff;text-transform:uppercase;line-height:1em;padding:10px 0 !important;width:160px;display:inline-block;text-align:center;transition:background .3s transform .3s}ul#menu-main-menu li.menu-cta a:hover{background:#002b49}ul#menu-main-menu>li>ul.sub-menu{display:block;position:absolute;top:100%;left:15px;opacity:0;transition:opacity .3s;list-style:none;background:var(--color-menu-bg);height:0;overflow:hidden}ul#menu-main-menu>li:first-child>ul.sub-menu{left:-25px}body:not(.mobile-menu-open) ul#menu-main-menu>li:hover>ul.sub-menu{opacity:1;text-align:left;height:auto;min-width:295px;overflow:visible}body:not(.mobile-menu-open) ul#menu-main-menu>li:hover>ul.sub-menu li{display:block;position:relative}ul#menu-main-menu>li>ul.sub-menu li a{color:#000;text-decoration:none;padding:0 40px;line-height:58px;white-space:nowrap;overflow:hidden;text-overflow:ellipsis;display:block;transition:color .3s,background .3s}ul#menu-main-menu>li>ul.sub-menu li a:hover{background:var(--color-dark-blue);color:#fff}ul#menu-main-menu>li>ul.sub-menu>li>ul.sub-menu{display:none;position:absolute;top:0;left:100%;opacity:0;transition:opacity .3s;list-style:none;background:var(--color-menu-bg);height:0}body.mobile-menu-open ul#menu-main-menu>li>ul.sub-menu>li>ul.sub-menu{display:block}body:not(.mobile-menu-open) ul#menu-main-menu>li>ul.sub-menu>li:hover>ul.sub-menu{display:block;opacity:1;text-align:left;height:auto;min-width:295px;overflow:visible}body:not(.mobile-menu-open) ul#menu-main-menu>li>ul.sub-menu>li:hover>ul.sub-menu li{display:block}ul#menu-main-menu>li>ul.sub-menu>li>ul.sub-menu>li>ul.sub-menu{display:none;position:absolute;top:0;left:100%;opacity:0;transition:opacity .3s;list-style:none;background:var(--color-menu-bg);height:0}body.mobile-menu-open ul#menu-main-menu>li>ul.sub-menu>li>ul.sub-menu>li>ul.sub-menu{display:block}body:not(.mobile-menu-open) ul#menu-main-menu>li>ul.sub-menu>li>ul.sub-menu li:hover>ul.sub-menu{display:block;opacity:1;text-align:left;height:auto;min-width:295px;overflow:visible}body:not(.mobile-menu-open) ul#menu-main-menu>li>ul.sub-menu>li>ul.sub-menu>li:hover>ul.sub-menu li{display:block}#main-nav-search{float:right;width:50px;height:50px;text-align:center;line-height:50px;position:relative;position:absolute;width:25px;height:25px;line-height:50px;top:50%;right:30px;transform:translate3d(0,-50%,0);transition:transform .3s}#main-nav-search:hover{transform:translate3d(0,-50%,0) scale(1.1)}#main-nav-search img{display:inline-block;position:absolute;top:50%;left:50%;transform:translate3d(-50%,-50%,0)}#header-search-form{display:none}#main-nav>a#mobile-menu-control{display:none;width:21px;position:absolute;top:35px;right:30px;color:#002b49;text-decoration:none}#back-to-parent{display:inline-block;text-decoration:none;color:inherit;padding-left:42px;padding-right:0;font-size:17px;font-style:normal;font-weight:400;line-height:25px;letter-spacing:0em;text-transform:uppercase;line-height:34px}#back-to-parent img{width:20px;padding-left:28px;display:inline-block;vertical-align:top;transform:rotate(180deg)}#breadcrumbs{text-align:right;float:right;padding-left:0;padding-right:42px}#breadcrumbs a{text-decoration:none;color:inherit}#breadcrumbs a:not(:first-child):before{content:'/'}@media only screen and (max-width:1345px){ul#menu-main-menu>li{padding-left:30px}ul#menu-main-menu>li:not(:first-child)>ul.sub-menu{left:5px}}@media only screen and (max-width:1300px){ul#menu-main-menu>li{padding-left:20px}ul#menu-main-menu>li:not(:first-child)>ul.sub-menu{left:-5px}}@media only screen and (max-width:1250px){#main-nav-logo{width:170px}ul#menu-main-menu>li{padding-top:4px;padding-left:10px}ul#menu-main-menu>li:not(:first-child)>ul.sub-menu{left:-15px}#main-nav-search{top:42px;transform:none}#main-nav-search:hover{transform:scale(1.1)}}@media only screen and (max-width:1150px){#main-nav{position:absolute;top:0;left:0;width:100%;box-sizing:border-box;padding:31.95px}body.mobile-menu-open #main-nav{box-shadow:0 0 30px rgba(0,0,0,.5)}#main-nav-logo{width:122px}#anniversary-logo{max-width:50px}#main-nav .menu-main-menu-container{display:none}.mobile-menu-open #main-nav .menu-main-menu-container{display:block;width:100%;padding:0;margin-top:25px}.mobile-menu-open ul#menu-main-menu>li{display:block;padding:0;border-bottom:1px solid #eee}.mobile-menu-open ul#menu-main-menu>li:first-child{border-top:1px solid #eee}.mobile-menu-open ul#menu-main-menu li.menu-cta{float:none;width:160px;text-align:center;padding-left:0;margin:35px auto 0;border:none}.mobile-menu-open ul#menu-main-menu>li>a{padding:25px 0;position:relative}.mobile-menu-open ul#menu-main-menu>li:not(.menu-cta)>a:after{content:'+';transition:transform .3s;display:inline-block;position:absolute;right:0;top:50%;transform:translate3d(0,-50%,0);transform-origin:center;font-size:26px;height:26px;width:46px;text-align:center}.mobile-menu-open ul#menu-main-menu>li:not(.menu-cta)>a.open:after{transform:translate3d(0,-50%,0) rotate(225deg)}body.mobile-menu-open ul#menu-main-menu>li>ul.sub-menu{position:relative;left:0}body.mobile-menu-open ul#menu-main-menu>li:first-child>ul.sub-menu{left:0}body.mobile-menu-open ul#menu-main-menu>li>a.open+ul.sub-menu{opacity:1;text-align:left;height:auto;min-width:295px}.mobile-menu-open ul#menu-main-menu>li>ul.sub-menu li{border-top:1px solid rgba(0,0,0,.05)}.mobile-menu-open ul#menu-main-menu>li>ul.sub-menu li:first-child{border-top:none}body.mobile-menu-open ul#menu-main-menu>li>a.open+ul.sub-menu li{display:block}.mobile-menu-open ul#menu-main-menu>li>ul.sub-menu li a{padding:0 25px}body.mobile-menu-open ul#menu-main-menu>li>ul.sub-menu>li>ul.sub-menu{position:relative;left:0;height:auto;opacity:1}body.mobile-menu-open ul#menu-main-menu>li>a.open+ul.sub-menu>li>a.open+ul.sub-menu{opacity:1;text-align:left;height:auto;min-width:295px}.mobile-menu-open ul#menu-main-menu>li>ul.sub-menu li>ul.sub-menu li{border-top:1px solid rgba(0,0,0,.05)}.mobile-menu-open ul#menu-main-menu>li>ul.sub-menu li:first-child>ul.sub-menu li:first-child{border-top:none}body.mobile-menu-open ul#menu-main-menu>li>a.open+ul.sub-menu li>a.open+ul.sub-menu li{display:block}.mobile-menu-open ul#menu-main-menu>li>ul.sub-menu li>ul.sub-menu li a{padding:0 25px 0 40px}body.mobile-menu-open ul#menu-main-menu>li>ul.sub-menu>li>ul.sub-menu>li>ul.sub-menu{position:relative;left:0;height:auto;opacity:1}.mobile-menu-open ul#menu-main-menu>li>ul.sub-menu li>ul.sub-menu li>ul.sub-menu li a{padding:0 25px 0 65px}#main-nav #main-nav-search{display:block;right:66px;top:34px;width:21px}#main-nav>a#mobile-menu-control{display:block}body.mobile-menu-open #mobile-menu-control:before{content:'\00D7';text-decoration:none;font-size:60px;line-height:6px;left:-4px;position:relative}body.mobile-menu-open #mobile-menu-control img{display:none}#back-to-parent{display:block;text-align:center;padding:0;font-size:15px;line-height:25px}#back-to-parent img{padding-left:15px;width:15px}#breadcrumbs{display:none}}@media only screen and (max-width:350px){#main-nav{padding:20px !important}#main-nav-home{margin:10px 0 !important}#main-nav-search{right:47px !important}#main-nav>a#mobile-menu-control{right:20px !important}} :root{--cta-icon-width:50px;--cta-padding:40px}#page-container #header{position:relative;padding:14vh 7vw;background-size:cover;background-position:center;overflow:hidden;padding:14vh 7vw 18vh;background:#002b49}#page-container #header:after{content:'';position:absolute;width:100%;height:100%;background:rgba(0,43,73,.8);z-index:0;top:0;left:0}body.home #page-container #header:after{background:rgba(0,43,73,.71)}#page-container #header>*{position:relative;z-index:1}#page-container #header #header-title{font-size:76px;font-style:normal;font-weight:400;line-height:86px;color:#fff;max-width:727px;margin-bottom:30px;font-size:5vw;line-height:1.2em;text-transform:none;white-space:pre;font-size:4.8vw;font-size:calc(32px + 2.5vw)}#page-container #header #header-title:before{content:'';display:block;width:153px;height:9.5px;background:var(--color-red);margin-bottom:40px}#page-container #child-header-title{font-size:32px;font-style:normal;font-weight:800;line-height:43px;letter-spacing:.2em;text-align:center;margin:30px auto 60px;max-width:40ch}#page-container #header #header-description{max-width:66.66%;width:660px;color:#fff;font-size:29px;font-size:18px}body.home #page-container #header #header-description{max-width:360px}#page-container #header #header-red-link{background:#862633;color:#fff;text-decoration:none;display:inline-block;margin-top:90px;text-transform:uppercase;font-size:17px;line-height:38px;padding:0 20px;transition:background .3s}#page-container #header #header-red-link:hover{background:#002b49}body.home #page-container #header #header-red-link{margin-top:60px}#page-container #header #header-cta-container{width:432px;background:var(--color-dark-beige);position:absolute;right:0;bottom:0;width:33.33%}#header-cta-container a{color:#000;text-decoration:none;display:block;padding:var(--cta-padding);position:relative;height:47px}#header-cta-container a:nth-child(2){border-top:1px solid #63552e}#header-cta-container a:after{content:'';display:block;position:absolute;top:0;left:0;width:0;height:100%;background:rgba(255,255,255,.15);transition:width .3s;z-index:-1}#header-cta-container a:hover:after{width:100%}#header-cta-container .header-cta-icon{width:var(--cta-icon-width);display:block;position:absolute;top:50%;left:var(--cta-padding);transform:translate3d(0,-50%,0)}#header-cta-container .header-cta-text{display:block;width:calc(100% - var(--cta-icon-width) - (var(--cta-padding)*2) - 35px);font-size:17px;text-transform:uppercase;padding:0;box-sizing:border-box;line-height:47px;position:absolute;top:50%;left:calc(var(--cta-padding) + 20px + var(--cta-icon-width));transform:translate3d(0,-50%,0)}#header-cta-container .header-cta-text .text-scroll{display:block;white-space:nowrap;overflow:hidden;text-overflow:ellipsis;width:100%}#header-cta-container .header-cta-arrow{display:block;width:17px;position:absolute;top:50%;right:calc(var(--cta-padding) - 10px);transform:translate3d(0,-50%,0);transition:transform .5s}#header-cta-container a:hover .header-cta-arrow{transform:translate3d(0,-50%,0) scale(1.3)}#page-container #header #header-background-image{position:absolute;top:0;left:0;width:100%;height:100%;z-index:0}#header-background-image img{position:absolute;bottom:0;left:0;width:100%;height:calc(100% + 35px);object-fit:cover}#header-background-image #header-bg-video{position:absolute;bottom:0;left:0;width:100%;height:calc(100% + 35px);object-fit:cover}body.page-id-1292 #header{padding:170px 25px 180px !important}body.page-id-1292 #page-container #header #header-title{text-align:center;max-width:100%;margin-bottom:40px;white-space:normal !important}body.page-id-1292 #page-container #header #header-title:before{text-align:center;margin:0 auto 40px auto;max-width:100%}body.page-id-1292 #page-container #header #header-description{text-align:center;margin:0 auto;width:900px;max-width:100%}@media only screen and (max-width:1240px){:root{--cta-icon-width:40px}}@media only screen and (max-width:1150px){:root{--cta-icon-width:30px}#page-container #header{padding:62px 30px 87px}body.home #page-container #header #header-description,#page-container #header #header-description{max-width:100%}#page-container #header #header-cta-container{position:relative;left:-30px;bottom:0;width:calc(100% + 60px);margin-top:87px;margin-bottom:-87px}}@media only screen and (max-width:960px){#page-container #child-header-title{font-size:24px;margin-bottom:45px}}@media only screen and (max-width:600px){#page-container #header #header-title{white-space:normal;font-size:2em}} :root{--footer-padding-lr:122px;--footer-padding-t:45px;--footer-padding-b:100px}.cn-button.bootstrap{background:var(--color-red) !important}#mobile-contact-us-cta{display:none;position:fixed;bottom:15px;right:15px;z-index:10;width:60px;background:var(--color-red);border-radius:50%;height:60px;transition:background .3s,transform .3s;box-shadow:0 10px 30px rgba(0,0,0,.25)}#mobile-contact-us-cta:hover{background:#002b49;transform:scale(1.1)}#mobile-contact-us-cta img{max-width:50%;position:absolute;top:50%;left:50%;transform:translate3d(-50%,-50%,0)}body.page-id-471 #mobile-contact-us-cta{display:none}body:not(.bg-pattern-off) .bg-accent{position:fixed;z-index:-1;height:100vh;width:40vw;background-repeat:no-repeat;background-size:contain}body:not(.bg-pattern-off) #bg-accent-1{top:0;right:0;background-image:url(//www.lamons.com/wp-content/themes/lamons/css/../images/bg-accent-2.svg);background-position:right center}body:not(.bg-pattern-off) #bg-accent-1.eight{background-image:url(//www.lamons.com/wp-content/themes/lamons/css/../images/bg-accent-3.svg)}body:not(.bg-pattern-off) #bg-accent-2{top:100vh;left:0;background-image:url(//www.lamons.com/wp-content/themes/lamons/css/../images/bg-accent-1.svg);background-position:left center}body:not(.bg-pattern-off) #bg-accent-3{top:200vh;right:0;background-image:url(//www.lamons.com/wp-content/themes/lamons/css/../images/bg-accent-3.svg);background-position:right center}body:not(.bg-pattern-off) #bg-accent-3.circle{background-image:url(//www.lamons.com/wp-content/themes/lamons/css/../images/bg-accent-2.svg)}#footer-container{background:var(--color-dark-blue);color:#fff;padding:var(--footer-padding-t) var(--footer-padding-lr) var(--footer-padding-b) var(--footer-padding-lr);position:relative}#footer-nav .header-only{display:none !important}#footer-nav-home{display:block;width:222px}#footer-nav-home img{display:block;width:100%}#footer-nav ul{list-style:none}#footer-nav .menu-main-menu-container>ul{margin:40px 0}#footer-nav .menu-main-menu-container .sub-menu>li>ul.sub-menu{display:none}#footer-nav .menu-main-menu-container>ul:after{content:'';display:block;clear:both}#footer-nav .menu-main-menu-container>ul>li{width:calc(20% - 16px);float:left;margin-left:20px}#footer-nav .menu-main-menu-container>ul>li:first-child{margin-left:0}#footer-nav .menu-main-menu-container>ul>li a{color:#fff;text-decoration:none}#footer-nav .menu-main-menu-container>ul>li>a{text-transform:uppercase;display:block;white-space:nowrap;overflow:hidden;text-overflow:ellipsis;background-image:url(//www.lamons.com/wp-content/themes/lamons/css/../images/white-bullet-arrow.svg);background-position:center right;background-repeat:no-repeat;background-size:0;transition:background-size .3s;display:block;padding-right:13px}#footer-nav .menu-main-menu-container>ul>li>a:hover{background-size:13px}#footer-nav .menu-main-menu-container .sub-menu{border-top:1px solid #fff;padding-top:18px;margin-top:18px}#footer-nav .menu-main-menu-container>ul>li ul a{font-size:14px;line-height:27px;background-image:url(//www.lamons.com/wp-content/themes/lamons/css/../images/white-bullet-arrow.svg);background-position:center right;background-repeat:no-repeat;background-size:0;transition:background-size .3s;display:block;padding-right:13px}#footer-nav .menu-main-menu-container>ul>li ul a:hover{background-size:13px}#footer-nav .menu-main-menu-container a[href="#"]{background:0 0 !important;cursor:default}#footer-copyright{font-size:14px;line-height:27px;margin:0}#terms-and-conditions{max-width:100%;margin:0}#terms-and-conditions a{font-size:14px;line-height:27px;background-image:url(//www.lamons.com/wp-content/themes/lamons/css/../images/white-bullet-arrow.svg);background-position:center right;background-repeat:no-repeat;background-size:0;transition:background-size .3s;display:block;padding-right:13px;max-width:165px;color:#fff;text-decoration:none}#terms-and-conditions a:hover{background-size:13px}#footer-social{position:absolute;bottom:var(--footer-padding-b);right:var(--footer-padding-lr)}#footer-social a{margin-left:14px;display:inline-block;width:30px;transition:transform .3s}#footer-social a:hover{transform:scale(1.2)}#footer-social a img{display:block}@media only screen and (max-width:1150px){:root{--footer-padding-lr:3vw}#mobile-contact-us-cta{display:block}#footer-container{text-align:center}#footer-nav-home{margin:0 auto 35px;width:177px}#footer-nav .menu-main-menu-container>ul{margin:40px 0 27px}#footer-nav .menu-main-menu-container>ul>li:not(.menu-cta){display:none}#footer-nav .menu-main-menu-container>ul>li.menu-cta{background:var(--color-red);color:#fff;text-transform:uppercase;line-height:1em;padding:11px 0 !important;width:177px;display:inline-block !important;text-align:center;transition:background .3s;float:none;margin:0 auto}#footer-nav .menu-main-menu-container>ul>li.menu-cta>a{text-transform:uppercase;display:block;border-bottom:none;padding-bottom:0;margin-bottom:0;white-space:nowrap;overflow:hidden;text-overflow:ellipsis}#footer-copyright{max-width:300px;margin:0 auto}#terms-and-conditions{max-width:300px;margin:0 auto}#terms-and-conditions a{margin:0 auto}#footer-social{position:relative;bottom:0;right:auto;margin-top:35px}#footer-social a{margin:0 7px}} .product-item-container{margin-bottom:140px}body.single .product-item-container{margin-top:100px}#page-container .product-item-container h3{font-size:29px;line-height:39px;display:block;width:33.33%;text-transform:none;font-weight:500;letter-spacing:0}body.single #page-container .product-item-container h3{display:none}.product-item-container .wp-block-image.product-image{width:33.33%;display:inline-block;margin-right:50px}.product-item-container .wp-block-image.product-image a{display:block;width:100%;padding-bottom:72.5%;height:0;position:relative}.product-item-container .wp-block-image.product-image a img{position:absolute;top:0;left:0;width:100%;height:100%;object-fit:cover}.product-item-container .wp-block-image.product-image+div{width:calc(66.66% - 55px);display:inline-block;vertical-align:top;margin-top:-62px}.product-list .wp-block-ub-tabbed-content-tab-title-wrap{cursor:pointer}.product-list .wp-block-ub-tabbed-content-tab-content-wrap{display:none}.product-list .wp-block-ub-tabbed-content-tab-content-wrap.active{display:block}@media only screen and (max-width:960px){.product-item-container{margin-bottom:80px}#page-container .product-item-container h3{width:100%}.product-item-container .wp-block-image.product-image{width:100%;display:block;margin-right:0}.product-item-container .wp-block-image.product-image+div{width:100%;margin-top:0}} .max-width-block__interior{margin:0 auto}.left-align .max-width-block__interior{margin:0}
Explore our Work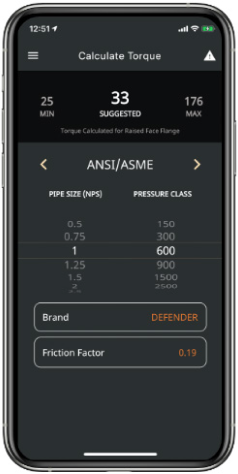 An App Transforms Torque Calculation and Flange Isolation Kit Installation
Lamons built an industry-first app (iOS and Android) that makes calculating torque and installing flange isolation kits simple and intuitive and even streamlines troubleshooting.
---
Use the app to get torque values, installation instructions, and even report field issues right from your phone.
---
Change the friction factor (k) on the app to generate new torque values – no need to call in and ask an engineer to run new values.
---
Use the report-a-field-issue function to send photos taken with your phone directly to an isolation gasket expert.
---
Stocking distributors' websites are linked directly within the app, making it easy to find the isolation gaskets you need from a distributor in your area.
Ready to innovate with us?